Originally posted by 4now:
Nah
That's the sandworm from DUNE eating a cream donut.
You want nuclear...Now here's nuclear
B O OM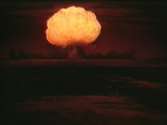 If the radiance of a thousand suns
Were to burst at once into the sky,
That would be like the splendor of the Mighty One...
I am become Death,
The shatterer of Worlds.
The Bhagavad-Gita
Seriously, I pray your avatar does not mean you will be a "shatterer of Worlds" to those two people , one who at one time meant so much in your life.