I've never been a big fan of the
Martin Niemöller
poem about the Nazi era, "First they came…" You know the one:
First they came for the Socialists, and I did not speak out – Because I was not a Socialist,
Then they came for the Jews, and I did not speak out – Because I was not a Jew,
...yadda, yadda, yadda…
Then they came for me – And there was no one left to speak for me.
I have two complaints about this poem. First, it implies that the main reason to "speak out" on behalf of others is self-interest: If I don't help others, no one will help me. That seems a weak foundation for a system of moral behavior. Second, I don't think Pastor Niemöller's basic point—that eventually a malicious government will come for everyone—is convincing to the people who need convincing. Nazi supporters certainly did not think that their government would turn against them. And the fact is, Hitler did not persecute most of the people who stood by his side (he caused them great misery, but that is another story).
Due Process of Law...
Fast forward to our own time, and President Trump's attacks on non-citizens. Last month, the President announced his opposition to due process of law for asylum seekers: "When somebody comes in, we must immediately, with no Judges or Court Cases, bring them back from where they came," he
wrote
on Twitter. And a series of new legal, policy, and personnel changes represent clear moves in the direction of weakening due process protections for non-citizens, and making it easier to deny cases—including asylum cases—without a full review of the applicant's claim.
Why should we be so concerned about due process, you ask? For one thing, due process is a foundational principle of our democracy (and its origins go all the way back to the
Magna Charta
). The Founding Fathers were rightly concerned about the exercise of government power against individuals. Due process provides a procedural check on that power—the government's authority cannot be unleashed in a criminal, civil or immigration case without first ensuring that the use of that power is lawful. In the case of non-citizens, the Immigration and Nationality Act ("INA") provides certain legal rights to non-citizens, including the right to apply for asylum. The Supreme Court has recognized—repeatedly—that
aliens are entitled to due process of law
before they can be deported.
What does due process look like in the immigration context? The protections afforded to non-citizens vary, depending on many factors, including the type of case, the relief sought, and whether the alien is inside the U.S. or seeking admission at the border. In the asylum context, an alien who is physically present in the United States or at a border has the right to seek asylum. That is the law (specifically
INA §208
). In most cases, asylum seekers are entitled to a full hearing to evaluate their claims. However, the Trump Administration has been working hard to eliminate due process protections, and reduce the system's safeguards (for a sobering analysis of the Trump Administration's degradation of due process for non-citizens, check out this
article
by the brilliant Jeffrey S. Chase). But thus far, the Trump Administration has not changed the immigration law—that requires an act of Congress.
Assuming that Congress does not act (usually a safe assumption), some measure of due process will remain for all asylum seekers—even those at the border. But of course, reducing due process means increasing the likelihood that legitimate claims will be denied, and that some aliens will be returned to face harm.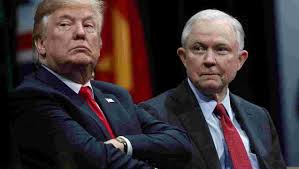 Dupe Process of Law.
All this brings us back to Pastor Neimöller. I have little hope that President Trump's supporters or Republicans in Congress will have a sudden change of heart, or recognize that when due process protections are reduced for some, those protections are reduced for us all. They seem to believe that while the government might come for non-citizens, it will not come for them. Or in the case of our elected officials, they may know better, but are cowed by the President's Twitter account. Either way, we can't expect much help here.
So where does that leave us? Who will speak out?
The primary decision-makers in asylum cases—the people on the front line—are Immigration Judges and Asylum Officers. There are other players, of course: The federal courts, the Board of Immigration Appeals, and USCIS Officers, but in most cases, it will be the IJs and Asylum Officers who determine the applicant's fate. Here, I do have hope. Despite seeming
efforts
(probably illegal) by the Justice Department to exclude politically undesirable candidates, most IJs and Asylum Officers are serious people who recognize their duty to the rule of law. They were not hired to rubber stamp the President's agenda, and most will not do so.
And while I can't say I am a fan of Pastor Neimöller's famous quote, I do think he is correct in this sense: When we weaken the legal mechanisms and institutions that protect us from excessive government power, we all become more vulnerable. Perhaps non-citizens are the canaries in the coal mine. As the government seeks to reduce due process protections for them, we should all be concerned. Immigration Judges and Asylum Officers stand on the front line of this fight, and when they do their duty, they protect us all.
Originally posted on the Asylumist:
www.Asylumist.com
.