Before founding Stilwell & Slatton, Victoria Slatton worked as an Asylum Officer at the Department of Homeland Security. As a former employee of USCIS, she has an in-depth understanding of the United States immigration system and is a passionate advocate for her clients in private practice. Her full bio can be found
here
.

Contact Victoria Slatton at
victoria.slatton@ssimmigrationfirm.com
. To schedule a consultation with an immigration attorney at Stilwell & Slatton, visit our
website
.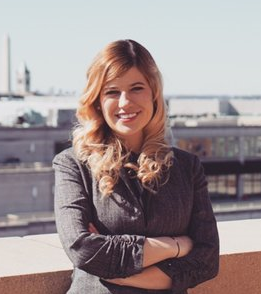 Victoria Slatton
It's been a year since I left my former position as an asylum officer and switched to private practice. As a former officer, sometimes it's hard for me to balance my inherent urge to zealously advocate for my client during an asylum interview with my knowledge of how my actions will be perceived by an asylum officer. To address these concerns, I've compiled a very basic list of information I think will be helpful for attorneys during an asylum interview.
1. Go Over the I-589 With Your Client Before the Interview
Every officer has her own way of handling I-589 updates, but I personally preferred it when attorneys had changes to the I-589 already written out and ready for me to go over. You don't have to redo the entire document. Instead, simply type up the changes in an organized Word document and respectfully ask whether the officer would like a written update to help subsidize their I-589 review. Some might say no, but others will be very grateful.
This was helpful to me for two reasons. First, it showed me that the applicant wanted to be upfront about the mistakes in his claim and had every intention of being forthcoming. Second, it saved me time, in that I did not have to ask repeatedly how to spell names of family members, addresses, or seek clarification from applicants over specific dates that might be confusing. Especially if your client has an interpreter, written updates could easily save an officer a precious 20 or 30 minutes in an interview. I was always grateful when attorneys took every step to respect my time.
2. The Interview is About Your Client
It is very frustrating to sit back and watch your client struggle to answer a question he doesn't understand, especially when you know he has a perfectly reasonable explanation and simply cannot communicate his response due to nerves or a language barrier. However, interjecting yourself into your client's testimony to clear up a discrepancy is generally not going to do your client any favors.
Officers almost never factor in attorney interjections when making a decision, and sometimes it can prevent your client from saying what the officer needs to get on record. When I handed my supervisor my interview notes, I wanted it to be clear that the
applicant
was forthcoming in his responses and understood my questions, not the attorney. Unless a conversation is truly going off the rails and you feel it is necessary to recenter the discussion for the sake of your client, I would highly suggest saving these remarks for your closing argument.
3. Have a Copy of Your Client's Evidence in Front of You
One of the few times you should interject in an interview is if the officer asked for evidence that has already been submitted. Officers don't always have time to review the file in depth before an interview, and might not truly understand the nature of everything that has been submitted. Therefore, if your client is asked a question about why a certain piece of evidence wasn't brought forth, it is very helpful and appropriate to respectfully direct the officer to the exhibit in question.
4. Make Your Closing Argument Short and Concise
Generally speaking, for an asylum officer, the closing statement will probably be the least important piece of information in the record. Officers understand the nature of zealous advocacy and know that you will already have an inherent bias to protect your client. Now that I'm in private practice, I try to keep my closing argument to under three minutes and maintain a level of respect for my officer, even if the interview has been particularly frustrating.
I usually use this time to address inconsistencies in my client's testimony and to explain how I think the client either misunderstood the question or point to pieces of evidence that might help the officer paint a clear picture of what happened. For example, I recently had a client who stumbled over his timeline and incorrectly quoted a few dates. The officer questioned these discrepancies and I kindly explained at the end of the interview that my client used a different calendar in his home country and often became confused when recalling the specifics of his timeline.
Lastly, I will make a short statement about why my client meets the definition of a refugee. I try to keep this to a thirty second monologue. Closing statements are an art, not a science, and I tend to focus on different legal aspects depending on the case. It is important to remember that not every legal aspect of the case needs to be defended at this point in the interview.
Originally posted on the Asylumist:
www.Asylumist.com
.