This month marks the 75th anniversary of the Hollywood classic
Casablanca
. The move has been acclaimed as one of the great films of all time, and in my (correct) opinion, it contains the greatest scene in movie history (more on that later).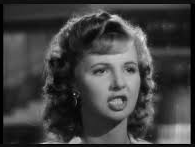 French refugee Madeleine Lebeau: "Vive la France!"
Probably, you know the basic story. It's 1942. France has fallen to the Nazis, and some French colonies, including the city of Casablanca in Morocco, are under Vichy control (the Vichy government of France collaborated with the Nazis). Refugees, freedom fighters, Nazis, smugglers, and numerous others pass through Rick's Café in Casablanca. Many are seeking papers to escape to Portugal and then to freedom in the New World (the film's technical director,
Robert Aisner
, actually took this route himself after he escaped from a German prison camp).
Rick--the owner of the café--is an American ex-patriot (played by Humphrey Bogart) whose loyalties through much of the movie are ambiguous. One day, Rick's former lover Ilsa (Ingrid Bergman) appears with her husband, resistance leader Victor Laszlo (Paul Henreid), and Rick and Ilsa have to make some relationship decisions ("Of all the gin joints in all the towns in all the world, she walks into mine."). If you don't know how the movie ends, I'm not going to tell you here--you should see it for yourself (and you can thank me later).
What's less well-known about
Casablanca
is that many of the actors in the film were themselves refugees. Of 75 people who had bit parts and larger roles in
Casablanca
, almost all were immigrants of one kind or another. And of the 14 who got screen credit, 11 were foreign-born. Here is the story of some of them:
Conrad Veldt
was a well-known German actor who opposed the Nazis and left Germany with his Jewish wife in 1933. Before he departed, he had to complete a questionnaire about his race. Even though he was not Jewish, he listed himself as a Jew. The government offered him an opportunity to divorce his wife and align himself with the Nazis, but he refused. Mr. Veldt moved to Britain where he performed in anti-Nazi films. He eventually came to the United States, where he wanted to help persuade the U.S. to enter the war. Mr. Veldt donated the better part of his personal fortune to Britain to assist with the war effort. He played Major Strasser, the primary bad guy in
Casablanca
.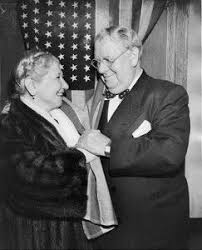 S.Z. Sakall and his wife Anne Kardos became American citizens in 1946: "Mama and I are happy, happy people today."
Lotte Palfi
played a desperate woman selling her jewels to raise money. In her only line in the film, she asks for "just a little more, please?" Ms. Palfi was a leading stage actor in German, but fled in 1934 because she was Jewish. She hoped to find success in America, which she viewed as a "melting pot" where the "great majority of the people... had emigrated from other countries." So she initially thought her German accent "shouldn't be any hindrance to [her] acting career." "Of course," she wrote, "I couldn't have been more wrong." Ms. Palfi married fellow
Casablanca
actor
Wolfgang Zilzer
(who grew up in Germany and only learned of his American citizenship when he was trying to secure a visa to escape from Europe). The couple divorced after 50 years when he wanted to return to Germany at the end of his life and she refused to go back.
S.Z. Sakall
played Carl the waiter in
Casablanca
. He was a Hungarian Jew who worked on stage and screen in his native country, and also in Austria and Germany. He lost three sisters and many other relatives in the Holocaust. Known for his comedic performances and his shaking jowls (one of the Warner brothers made him adopt the nickname "Cuddles"), Mr. Sakall achieved success in Germany using broken German, and in America using broken English. He arrived in the U.S. just before the war, in May 1939, and appeared in 30 movies between 1940 and 1950. Mr. Sakall was immensely proud of his United States citizenship, and kept his naturalization documents on the mantel in his living room.
Hans Twardowski
played a German officer in
Casablanca
. He began his career as a supporting actor in
The Cabinet of Doctor Calgary
, but had to flee Germany because he was gay. In the U.S., Mr. Twardowski was type-cast as a Nazi, and never worked as an actor after the war ended, but he always dreamed of returning to the stage.
Helmut Dantine
played a young Bulgarian husband trying to earn travel money at the roulette table. In Austria, he led an anti-Nazi youth movement, and was rounded up after Hitler annexed his country in 1938. Mr. Dantine was only 19 years old. He spent three months in a concentration camp before he managed to get released based on family connections and medical reasons. His parents immediately sent him to Los Angeles, where they had a family friend. In the U.S., he worked as an actor and a producer.
Peter Lorre
, born Laszlo Lowenstein in Hungary in 1904, played Ugarte, a black marketeer who hands Rick the letters of transit that Victor and Ilsa need to escape from Casablanca. Mr. Lorre moved with his family to Austria when he was young, and he began his career there. He eventually migrated to Germany where he acted on stage and screen. His breakout role was as a killer in Fritz Lang's 1931 film
M
. With Hitler's ascension to power, Mr. Lorre left Germany in 1933, and made his way to France, Britain, and eventually, the U.S., where he settled in Hollywood.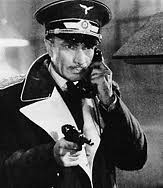 Anti-Nazi actor Conrad Veidt played a Nazi in Casablanca.

Marcel Dalio
, who played Emil the croupier, had been a star in French cinema (
Rules of the Game
and
La Grande Illusion
), but fled the country ahead of the Nazi invasion (he was Jewish and feared persecution). The Vichy government used Mr. Dalio's image to depict the stereotypical Jew on propaganda posters, but in the U.S., he was reduced to playing minor roles. Upon learning of the posters, he quipped, "At least I had star billing on the poster." Mr. Dalio was promoted to playing Renaud (in the movie, this character was Renault) on the short-lived and largely forgotten
Casablanca
television serious (1955-56). Mr. Dalio's mother and sisters were murdered at Auschwitz.
Madeleine Lebeau
was the French woman seen crying (real tears) and shouting "Vive la France" during the greatest scene in movie history. In real life, she was a citizen of France who married Marcel Dalio when she was 16, and then fled the country with him after the German invasion. Their marriage was short-lived, and Ms. Lebeau returned to Europe after the war, where she continued to act in France, Britain, and Spain. She died last year at age 92--the
last surviving named cast member
in
Casablanca
.
Seventy-five years after its release,
Casablanca
is recognized as one of the great films of all time. The emotion brought to the movie by so many real-life refugees from Nazism certainly contributes to the film's power. Indeed, refugees helped shape the movie, and the movie helped shape our vision for the war (critic Pauline Kael once opined, "Our image of the Nazi was formed by the Jewish refugees").
Finally, the undisputed greatest scene in movie history: A group of Nazi officers is singing a patriotic German song at Rick's café. They are--they believe--the masters here. Resistance leader Victor Laszlo notices the men and marches over to the house band. He tells them to play le Marseille, the anthem of free France. The band looks to Rick, and he has another decision to make--keep out of it, or get involved. See what happens
here
.
Originally posted on the Asylumist:
www.Asylumist.com
.