By Nolan Rappaport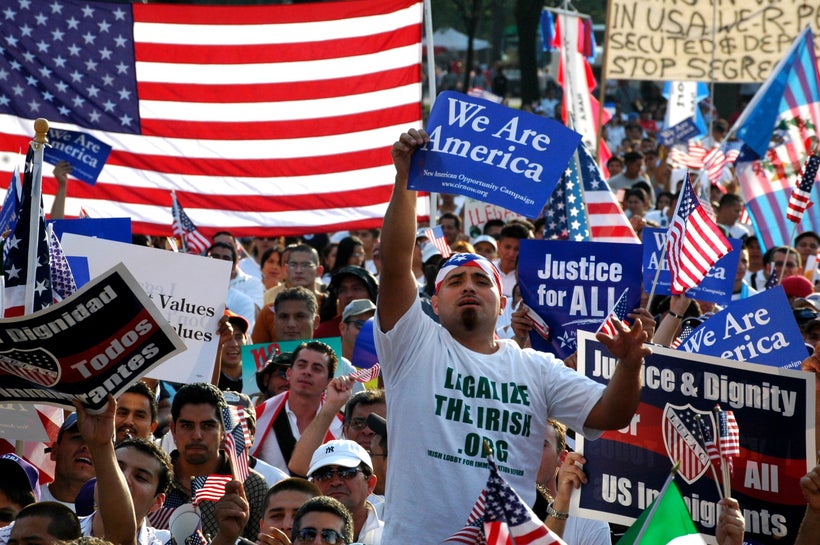 According to Hillary Clinton, America needs comprehensive immigration reform with a pathway to citizenship. I agree, but I do not think her vision of comprehensive immigration reform is really "comprehensive." According to the Oxford dictionary, "comprehensive" means "Complete; including all or nearly all elements or aspects of something." Hillary's immigration reform policies essentially just address the problems that concern the Democrats. A comprehensive approach would have to address the issues that are important to the Republicans too, such as effective interior enforcement and a secure border. In other words, to be comprehensive, it would have to meet the political needs of both parties.
Hillary is not alone in her approach to immigration reform. To my knowledge, the Democrats have not passed a truly bipartisan immigration reform bill in the last 30 years. They have passed immigration reform bills that they have called "bipartisan," but I do not think they really were.
For instance, the Senate has passed two major immigration reform bills
and both were opposed by a majority of the Senate Republicans. On May 25, 2006, the Senate passed the Comprehensive Immigration Reform Act of 2006, S. 2611, with a vote of 62 yeas and 36 nays. Only 23 Republican senators voted for it; the other 32 Republicans and four Democrats voted against it. On June 27, 2013, the Senate passed the Border Security, Economic Opportunity, and Immigration Modernization Act of 2013, S. 744, with 68 yeas and 32 nays. Only 14 of the Republicans voted for it; the other 32 voted against it. Both bills were dead on arrival when they reached the Republican-controlled House of Representatives.
I am only aware of one successful immigration reform bill that had such one-sided political support, the
Illegal Immigration Reform and Immigrant Responsibility Act
of 1996 (IIRIRA), which was an extremely harsh Republican bill. I am very familiar with IIRIRA because I was brought to the House Judiciary Committee in 1997, as an Executive Branch Immigration Law Expert, to analyze IIRIRA and write a bill for the Democrats to fix the provisions which we believed had taken the fairness and compassion out of our immigration laws. The bill I wrote, the
Restoration of Fairness in Immigration Law Act
of 2000, was introduced by Congressman John Conyers, with 47 cosponsors, on July 26, 2000. It was the legislative foundation for the "Fix'96" campaign. I think these fixes should be included in a comprehensive immigration reform bill. The only current bill that provides these fixes is Congresswoman Sheila Jackson Lee's,
Save America Comprehensive Immigration Act
of 2015, H.R. 52.
Ironically, IIRIRA was signed into law as part of a larger bill by Hillary's husband, Bill, who apparently agreed with Republican enforcement policies. When his chief of staff,
Leon Panetta, gave a briefing on IIRIRA
, he said, "We were able, I think, as a result of this negotiation to be able to modify — eliminate the large hits with regards to legal immigrants while keeping some very strong enforcement measures with regards to illegal immigration." Moreover, Bill's formal
statement at the signing ceremony
explicitly acknowledged that he was in favor of strengthening the rule of law by cracking down on illegal immigration. The pertinent part of his statement reads as follows:
This bill, ... includes landmark immigration reform legislation that builds on our progress of the last three years. It strengthens the rule of law by cracking down on illegal immigration at the border, in the workplace, and in the criminal justice system—without punishing those living in the United States legally.


The last really comprehensive immigration reform bill was passed thirty years ago, the
Immigration Reform and Control Act
of 1986 (IRCA). It was a remarkable accomplishment, and Republican President Ronald Reagan seemed to be very proud of it when he made his
statement during the signing ceremony
. He said:
[IRCA] is the product of one of the longest and most difficult legislative undertakings of recent memory. It has truly been a bipartisan effort, with this administration and the allies of immigration reform in the Congress, of both parties, working together to accomplish these critically important reforms....



What happened after IRCA was enacted, however, is a different matter. It was supposed to permit the creation of a path to citizenship for undocumented immigrants in return for increased enforcement measures and a secure border. It was a wipe-the-slate-clean-and-start-over deal. The Republicans permitted approximately 2.7 million undocumented aliens to be legalized in return for border security and an effective interior enforcement program that would prevent the development of such large groups of undocumented aliens again in the future. But by the beginning of 1997, the
2.7 million legalized aliens had been replaced entirely by a new group of undocumented aliens
. In other words, the Democrats got their legalization program but the Republicans never got the border security or the interior enforcement program they had been promised.
I believe that the Republicans would agree to the same deal now if they were assured that this time, they would get border security and interior enforcement before the legalization program is implemented, and such an agreement would be a solid foundation for creating a comprehensive immigration reform bill that truly would be "comprehensive."
This article is reprinted with permission from the author. It was originally published by the author on
Huffington Post
.
About The Author
Nolan Rappaport
was detailed to the House Judiciary Committee as an Executive Branch Immigration Law Expert for three years; he subsequently served as the immigration counsel for the Subcommittee on Immigration, Border Security, and Claims for four years. Prior to working on the Judiciary Committee, he wrote decisions for the Board of Immigration Appeals for twenty years. He also has been a policy advisor for the DHS Office of Information Sharing and Collaboration under a contract with TKC Communications, and he has been in private practice as an immigration lawyer at Steptoe & Johnson.