By Nolan Rappaport.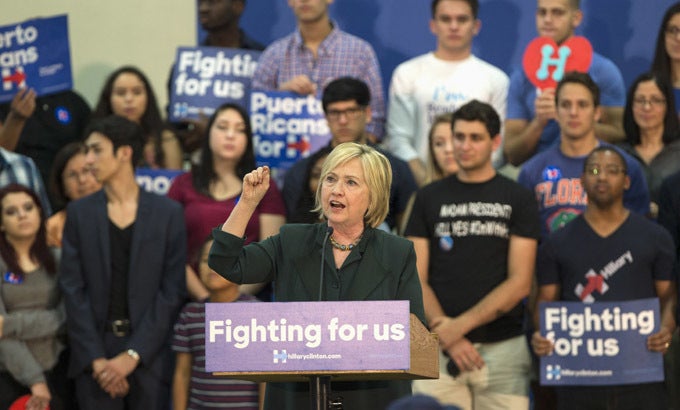 At a Democratic
Presidential Debate
on March 9, 2016, Hillary Clinton said that if she is elected, she will not deport any undocumented alien children and she will only deport undocumented adult aliens who have criminal records. As president, she will
enforce the immigration laws humanely
by focusing resources on detaining and deporting immigrants who pose a violent threat to public safety. Her deportation policy shows great compassion, but it could have unintended adverse consequences.

Apparently, Hillary thinks the 11 million undocumented aliens in the United States now and the undocumented aliens who will come in the future can be divided into two groups, honest adults and children who have come here for a better life and convicted criminals. But our immigration laws identify other groups of undocumented aliens who are not convicted criminals but who nevertheless pose a threat to our country. This includes aliens who have dangerous communicable diseases; terrorists; spies; human traffickers coming here to sell women and children into sexual slavery; drug traffickers who have not been convicted of a trafficking offense yet; aliens who have participated in genocide; and aliens who have tortured people or committed extrajudicial killings. A complete list of the General Classes of Deportable Aliens is set forth in section 237 of the Immigration and Nationality Act.

Would her immigration enforcement officers nevertheless arrest people who present a danger to our country even if they do not have criminal records and place them in removal proceedings? They might, but how would they know who they are? The immigration officers would be focusing their attention on aliens who have criminal records. They would not be investigating aliens who do not have criminal records. Also, they might be prohibited from arresting or initiating removal proceedings against aliens who do not have criminal records.

The Obama Administration does not permit immigration officers to arrest or initiate removal proceedings against aliens who are not in one of the administration's priority groups without special permission. The following paragraph from a DHS memorandum dated November 20, 2014, requires immigration officers to get permission from an ICE Field Office Director before apprehending, detaining, or removing aliens unlawfully in the United States who are not in a priority group:


B. Apprehension, Detention, and Removal of Other Aliens Unlawful in the United States.

Nothing in this memorandum should be construed to prohibit or discourage the apprehension, detention, or removal of aliens unlawfully in the United States who are not identified as priorities herein. However, resources should be dedicated, to the greatest degree possible, to the removal of aliens described in the priorities set forth above, commensurate with the level of prioritization identified. Immigration officers and attorneys may pursue removal of an alien not identified as a priority herein, provided, in the judgment of an ICE Field Officer Director, removing such an alien would serve an important federal interest (emphasis added).

Moreover, limiting removal proceedings to aliens with criminal records would make border security much more difficult. The fact that they would be safe from deportation once they have reached the interior of the country would be a powerful magnet to aliens who are willing to enter the United States illegally.
This policy also would attract aliens from the 38 Visa Waiver Countries who would like to live in the United States but are not eligible for an immigrant visa. They could come here freely with an online computer registration certificate and a passport without being concerned about deportation for overstaying their authorized admission periods. The same would be true of foreign students and other groups of nonimmigrant visitors. They all would be free to stay in the United States with impunity at the end of their authorized periods.

Hillary's policy of not deporting children also would encourage unaccompanied alien children to make a dangerous journey to come here from Central America. Department of Homeland Security Secretary Jeh C. Johnson tried to discourage this practice by publishing an open letter to the parents of children from Central America, in which he explains, among other things, that:


[i]t is dangerous to send a child on the long journey from Central America to the United States. The criminal smuggling networks that you pay to deliver your child to the United States have no regard for his or her safety and wellbeing - to them your child is a commodity to be exchanged for a payment. In the hands of smugglers, many children are traumatized and psychologically abused by their journey, or worse, beaten, starved, sexually assaulted or sold into the sex trade; they are exposed to psychological abused at the hands of criminals.



Donald Trump also says that he will focus his enforcement efforts on aliens who are criminals, but he has not said that he will shield the rest of the 11 million undocumented aliens from deportation. Trump's approach is not as compassionate as Hillary's, but it would avoid the unintended consequences that her approach could produce. Unfortunately, it is not clear yet what he intends to do with the undocumented aliens who are not criminals. He does not mention this issue in his Ten Point Immigration Plan. He says elsewhere that he will decide what to do with them when the border is secure and he has removed the criminal aliens. It is apparent, however, that he does not intend to provide them with a path to citizenship, but I would expect him to be receptive to offering them some other type of lawful status. At some point, he is going to realize that it would not be possible for him to deport 11 million people.

This article is reprinted with permission from the author. It was originally published by the author on Huffington Post.
__________________________________________________

About The Author
Nolan Rappaport was detailed to the House Judiciary Committee as an Executive Branch Immigration Law Expert for three years; he subsequently served as the immigration counsel for the Subcommittee on Immigration, Border Security, and Claims for four years. Prior to working on the Judiciary Committee, he wrote decisions for the Board of Immigration Appeals for twenty years. He also has been a policy advisor for the DHS Office of Information Sharing and Collaboration under a contract with TKC Communications, and he has been in private practice as an immigration lawyer at Steptoe & Johnson.