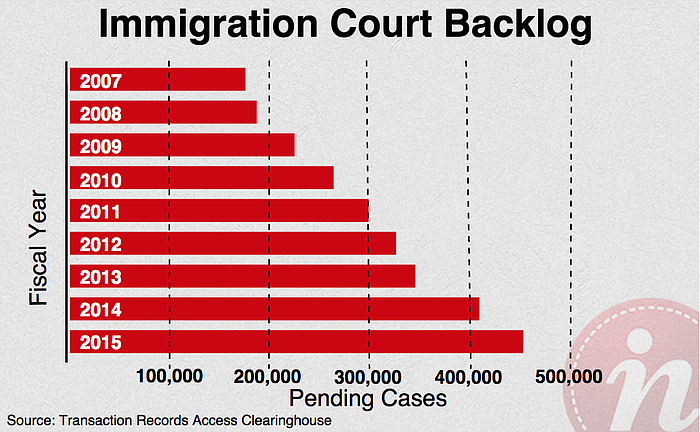 The Trafficking Victims Protection Reauthorization Act
(TVPRA) of 2008 required screening unaccompanied alien for possible trafficking risks and asylum claims. When former President George W. Bush signed TVPRA into law on December 23, 2008, he observed that it was intended to enhance measures to combat human trafficking. It is very unlikely that anyone anticipated that it would be used to require asylum hearings for tens of thousands of unaccompanied alien children from Central America.


The immigration courts always have had big backlogs, and the backlogs have continued to grow. The number of cases awaiting resolution before immigration judges as of the end of June 2016, reached a new high of 496,704, and 69,278 of these cases were for unaccompanied alien children. To put this in perspective, this was an average of 1,819 cases for each of the 273 immigration judges. It would take approximately 2.5 years to clear up this backlog even if there were no new cases being filed. But instead of giving priority to removing criminal aliens who pose a threat to our country, the Executive Office for Immigration Review hasprioritized the applications from the unaccompanied alien children.

I respect the Administration's efforts to help the children from Central America, but I do not think that the United States should assume sole responsibility for their welfare. In an article I wrote in July of 2014, I pointed out that their plight is an international problem and asserted that the United Nations High Commissioner for Refugees (UNHCR) should be involved in helping them. UNHCR was established on December 14, 1950, by the United Nations General Assembly. Its objective is to safeguard the rights and well-being of refugees. UNHCR has helped tens of millions of people to restart their lives. When I wrote my article, UNHCR had a staff of some 7,685 people in more than 125 countries. They were helping 14.7 million internally displaced persons, 10.5 million refugees, 3.1 million returnees, 3.5 million stateless people, more than 837,000 asylum seekers, and more than 1.3 million other persons of concern.

Moreover, UNHCR had developed a Refugee Protection and Mixed Migration 10-Point Plan of Action which addressed the plight of unaccompanied alien children. It is described in their report, "Children on the Run." The plan includes methods for recognizing newly merging forms of displacement in Central America and the emergence of international protection issues; ways to strengthen and harmonize regional and national frameworks for ensuring international protection; and measures for addressing root causes.
I pointed out that Congress could save unaccompanied alien children from the perils of the dangerous trip to the United States by making it possible for unaccompanied alien children from El Salvador, Guatemala, and Honduras to benefit from the 10-Point Plan with a bill that would exempt them from the removal-hearing requirement in TVPRA and remove any other obstacles to moving them out of the United States. The children could then be moved to temporary locations outside of the United States, which could be chosen by agreement between the Governments of El Salvador, Guatemala, Honduras, and the United States. When the children are safely placed at these locations, UNHCR could screen them to see which ones are eligible for refugee status. The rest of the children could be returned to their native countries when arrangements have been with the governments of those countries to provide safe environments for them.

I do not know whether my proposal had anything to do with it, but in September 2014, the Obama Administration announced a new Central American Minors(CAM) Refugee Program:

We are establishing in-country refugee processing to provide a safe, legal and orderly alternative to the dangerous journey that children are currently undertaking to join relatives in the United States.... These programs will not be a pathway for children to join undocumented relatives in the United States.




I applaud the Administration's efforts to address this problem, but if the Administration had fully developed the CAM refugee program, as I think it should have, we would not have 69,278 unaccompanied alien children waiting for asylum hearings in the United States, with thousands more on their way, and our immigration courts would not have a 496,704-case backlog. And I worry about the unaccompanied children who made the trip with them who did not reach the United States. What became of them?

__________________________________________________________________________________________________________________________________
This article is reprinted with permission from the author. It was originally published by the author on Huffington Post.


http://www.huffingtonpost.com/entry/57daaf27e4b0d5920b5b25f0?timestamp=1473983190513




About The Author
Nolan Rappaport was detailed to the House Judiciary Committee as an Executive Branch Immigration Law Expert for three years; he subsequently served as the immigration counsel for the Subcommittee on Immigration, Border Security, and Claims for four years. Prior to working on the Judiciary Committee, he wrote decisions for the Board of Immigration Appeals for twenty years. He also has been a policy advisor for the DHS Office of Information Sharing and Collaboration under a contract with TKC Communications, and he has been in private practice as an immigration lawyer at Steptoe & Johnson.