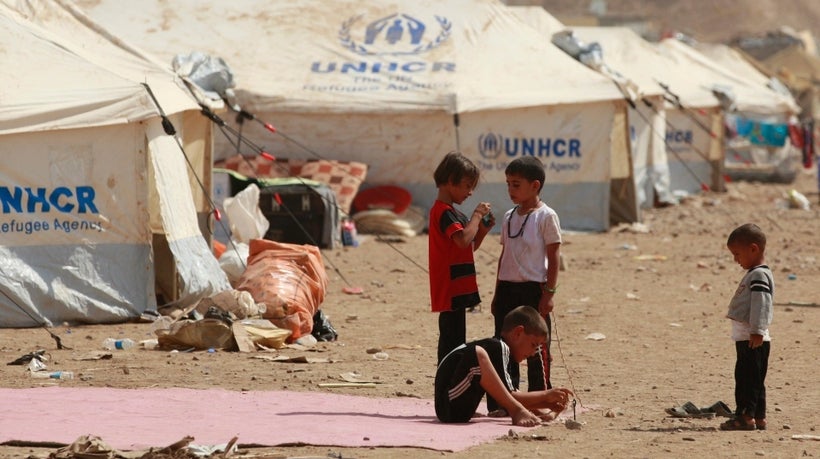 According to the United Nations High Commissioner for Refugees (UNHCR), 65.3 million people around the world have been forced from their homes as a result of persecution, conflict, generalized violence, or human rights violations. This includes approximately 21.3 million refugees, more than half of whom are under the age of 18. On average, 24 people worldwide were displaced from their homes every minute of every day during 2015 – nearly 34,000 people per day. The conflict in the Syrian Arab Republic accounted for more than half of the new refugees in 2015. There also were increases in refugees from Afghanistan, Burundi, and South Sudan.

The United States is not doing as much as it can to deal with this crisis. Under INA Section 207, the maximum annual number of refugee admissions is set by the President, and although section 207 requires a congressional consultation, it does not require congressional approval.





Sec. 207. [8 U.S.C. 1157] (a) (1) Except as provided in subsection (b), the number of refugees who may be admitted under this section in fiscal year 1980, 1981, or 1982, may not exceed .... (2) Except as provided in subsection (b), the number of refugees who may be admitted under this section in any fiscal year after fiscal year 1982 shall be such number as the President determines, before the beginning of the fiscal year and after appropriate consultation, is justified by humanitarian concerns or is otherwise in the national interest. ....





(b) If the President determines, after appropriate consultation, that (1) an unforeseen emergency refugee situation exists, (2) the admission of certain refugees in response to the emergency refugee situation is justified by grave humanitarian concerns or is otherwise in the national interest, and (3) the admission to the United States of these refugees cannot be accomplished under subsection (a), the President may fix a number of refugees to be admitted to the United States during the succeeding period (not to exceed twelve months) in response to the emergency refugee situation and such admissions shall be allocated among refugees of special humanitarian concern to the United States in accordance with a determination made by the President after the appropriate consultation provided under this subsection

.





For FY2016, the Obama Administration initially proposed a refugee ceiling of 75,000 and held consultations with Congress on that proposal. This included an allocation of 33,000 for the Near East/South Asia, the region that includes Syria. The Administration subsequently announced that it had decided to admit 10,000 Syrian refugees in FY2016, which set the FY2016 refugee ceiling at 85,000. When asked if that increase was sufficient, Hillary Clinton said, "Now, look, we're facing the worst refugee crisis since the end of World War II. And I think the United States has to do more. And I would like to see us move from what is a good start with 10,000 to 65,000..." But even 65,000 would be a small percentage of the total number of Syrian refugees, so it is difficult to predict how high she would want to go. As President of the United States, she would have unlimited authority to increase the ceiling on Syrian refugees. It is not clear, however, that a large increase would be in our best interests or in the best interests of the refugees.

Although we could provide refuge to the entire population of Syrian refugees, our refugee program is not limited to providing refugees with a safe haven. According to Anna Crosslin, who has been honored as a White House Champion of Change for World Refugees, providing refugees with a safe haven in America is just the first step. We also must help them to thrive in the United States, not just to survive here, and self-sufficiency is an essential part of this. According to the following chart, which was prepared by the Senate Subcommittee on Immigration, Border Security, and Citizenship, 91.4% of the Middle Eastern refugees accepted by the U.S. between 2008 and 2013, received food stamps and almost 68.3% received cash welfare.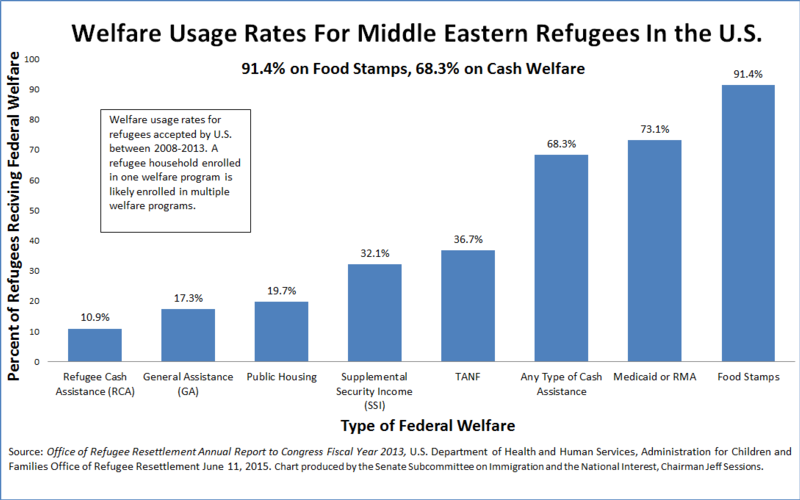 Another problem is that the information needed to perform reliable background investigations on Syrian refugees is not available. The United States does not have diplomatic relations with Syria. Consequently, we do not have access to on-the-ground intelligence in Syria. This has been confirmed by government officials who would know of such sources. For instance, an FBI Assistant Director has said, "The concern in Syria is that we don't have the systems in place on the ground to collect the information... All of the data sets, the police, the intel services that normally you would go and seek that information [from], don't exist." A U.S. Citizenship and Immigration Services official has stated that the government does not have access to any database in Syria that can be used to check the backgrounds of incoming refugees against criminal and terrorist records. And National Counterterrorism Center Director Nicholas Rasmussen has explained that, "the intelligence picture we've had of this [Syrian] conflict zone isn't what we'd like it to be... you

can only review [data] against what you have."





The Administration has responded to these concerns by establishing a more elaborate screening process which takes between 18 and 24 months to complete. Frankly, I do not know how additional time helps if the sources being checked do not have the needed information. Moreover, the Administration has cut the processing time back to three months to meet President Obama's goal of bringing 10,000 Syrian refugees here this year.



Published originally in Huffington Post.
http://www.huffingtonpost.com/entry/580bf50ae4b0b1bd89fdb3c6?timestamp=1477337326836

About The Author
Nolan Rappaport

was detailed to the House Judiciary Committee as an Executive BranchImmigration Law Expert for three years; he subsequently served as the immigration counsel forthe Subcommittee on Immigration, Border Security, and Claims for four years. Prior to workingon the Judiciary Committee, he wrote decisions for the Board of Immigration Appeals for twentyyears. He also has been a policy advisor for the DHS Office of Information Sharing andCollaboration under a contract with TKC Communications, and he has been in private practice asan immigration lawyer at Steptoe & Johnson.