Comment: India EB5 Market Changing Dynamics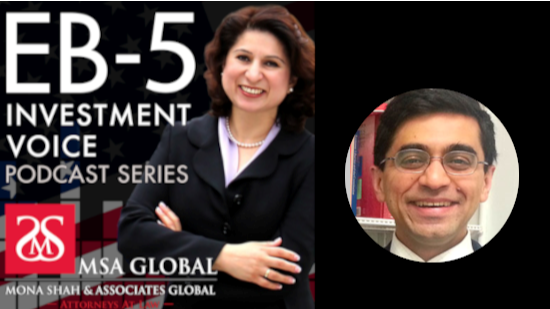 India has been one of the top markets for EB investment for some years now. Post RIA and post COVID, does this statement still hold true? Investment Voice Travels explores this theme with ILW's Sam Udani:

EB-5 Investment Voice asks Sam Udani from Immigration Law Worldwide ("ILW") to walk us through his most recent travels across India:

India's post-Covid subcontinental surge to EB-5 makes its mark on the investment immigration market. Despite an increase in the minimum investment – $800,000 – after Covid-19, the EB-5 Program reopened and the demand for visas spiked amongst Indian investors.

Sam gives us his unique perspective on the current climate of India's EB-5 ecosystem after having traveled across the country and speaking to dozens of investment immigration agents himself.

Sam reveals the market trends and their surprising driving factors. Which begs the question, what exactly is driving this EB-5 market surge? New legislation passed by US Congress, the influence of immigration agents, or the wants of the investors themselves?

Within Episode 184, Mona and Sam discussed China's dominance in the EB-5 market which has continued to exist in American investment immigration to date. In this episode, Mona, Rebecca, and Sam cover India's new surge in the EB-5 market, what caused it, and if this development will last.

Notwithstanding the fact that the topic of EB-5 cannot be discussed without first addressing the Reform and Integrity Act ("RIA") and the impact it has had, and will continue to have, for Indian investors attempting to navigate the whirlwind of changes within this investment landscape.

(Click the link below)
Sam Udani has been involved with the immigration community in the USA for most of his career spanning three decades, involving immigration politics and immigration policy and covering all manner of immigration into the USA. He has been a tireless advocate for enlightened immigration laws for the USA since ACWIA, AC21/ACTA and continuing from then on. Sam Udani currently serves as the Law Publisher and CEO of ILW.COM and Immigration Daily, a position he has held for over twenty years. As Publisher, he directs all activities of the website and newspaper with over 50,000+ pages of free information on immigration law that receives 250,000 visitors per month. Under Mr. Udani's direction ILW has conducted 600+ CLE seminars, published over two dozen immigration law books and conducted hundreds of immigration events in over a dozen countries.
Please let us know your thoughts by writing to us at
editor@ilw.com
Article: Enforcement Priorities Are Back. What Will ICE Prosecutors Do With Them? by Dara Lind for Immigration Impact

Blogging: September 2023 Visa Bulletin by Chris Musillo

Blogging: Congress to the Asylum Office: "You Must Do Better!" by Jason Dzubow

News: DHS Modernizes Cuban and Haitian Family Reunification Parole Processes


Focus: Silicon Valley EB5 Event

The new EB5 Reform Act allows for concurrent filing of Adjustment of Status with I-526 applications, which gives investors residing in USA most of the benefits of a Green Card within a few months of investing. So Indian H1Bs in the US may be the single largest piece of the EB5 global market in 2023. ILW has conducted 175+ in person EB5 events in 30+ cities across USA

To find out more click Here

Headline: Here's Immigration Reform for You: Make Illegal Immigration a Felony at the State Level | Opinion Click here
Headline: How To Speed Up Your USCIS Immigration Application Click here
Headline: Do Immigrants Transplant Certain Cultural Traits? Click here
Headline: Spotlight on the Immigration Divide: Mills-50's role in Orlando culture Click here
Headline: Ask Sophie: As an immigrant to the US, how can I create and work for my own startup? Click here


ComingsNGoings: Submit Your Announcement
If you have a professional announcement such as: New Position, Honors And Awards, Mergers & Acquisitions, New Office Address, New Appointment, New Associate, New Attorney, New Partner, that you wish to share with the Immigration Daily community, send your professional announcement to: editor@ilw.com comingsNgoings announcements is a free service
---
An Important disclaimer! The information provided on this page is not legal advice. Transmission of this information is not intended to create, and receipt by you does not constitute, an attorney-client relationship. Readers must not act upon any information without first seeking advice from a qualified attorney. Copyright 1995-2017 American Immigration LLC, ILW.COM. Send correspondence and articles to editor@ilw.com. Letters and articles may be edited and may be published and otherwise used in any medium. The views expressed in letters and articles do not necessarily represent the views of ILW.COM.
---
Publisher: Sam Udani ISSN: 1930-062X
Advisory Board: Jason Dzubow, Rami Fakhoury, Matthew Kolken, Chris Musillo, Lory Rosenberg, Greg Siskind, Joel Stewart, Margaret Wong