Comment: China EB5 Market Volume and Velocity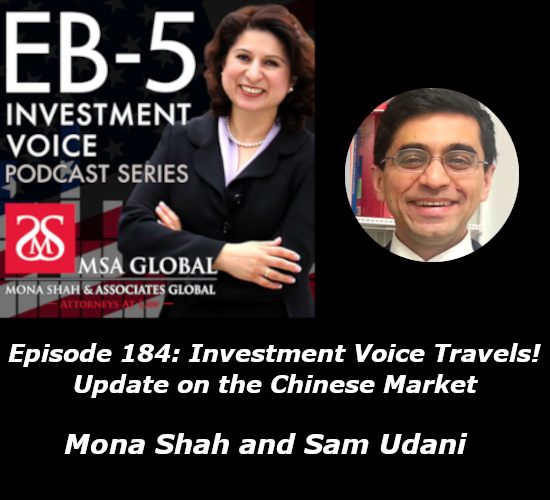 Investment Voice Travels!
Update On The Chinese Market
The Chinese market has been a huge factor in the success of the US EB-5 program. The flow of investors from China completely slowed down following the backlogs (from 2018) and COVID. As this lucrative market cautiously re-opens, EB-5 Investment Voice discovers what is happening as we converse with Immigration Law Worldwide's ("ILW") Sam Udani as he continues his travels through Southeast Asia.

This episode has been entirely devoted to China. Sam has much to say about the current EB-5 market in China, and how its "volume and velocity" sets it apart from the rest of the world. For a long time, China had cornered about 80% of the EB-5 market, and while that saturation might be over, they are still a dominant force, and will continue to cast a long shadow over the industry. That said, just what are the trends Sam discovered during his trip?

Last time, Mona and Sam began a discussion about one of the major aspects of immigration from Southeast Asia: migration agents. Listeners will hear about how migration agents function differently in China, and whether something has shifted between the older, seasoned agents and the new set, and just how much activity these agents are overseeing.

And of course, we couldn't explore changes in the market without mentioning the Reform and Integrity Act ("RIA"), which in many ways turned the entire EB-5 industry on its head. Sam and Mona discuss whether Chinese investors are quick to take advantage of concurrent filing, and touch on Congress' intentions and their control over the program.
As the market goes strong, the influx of new developers can lead to longer wait times. How will this affect the ability of Regional Centers to reach their raises? What kind of changes are we seeing in the amount of equity invested? What parts of the globe are garnering new, enthusiastic interest from investors?

(Click the link below)
Investment Voice Travels! Update On The Chinese Market
Sam Udani has been involved with the immigration community in the USA for most of his career spanning three decades, involving immigration politics and immigration policy and covering all manner of immigration into the USA. He has been a tireless advocate for enlightened immigration laws for the USA since ACWIA, AC21/ACTA and continuing from then on. Sam Udani currently serves as the Law Publisher and CEO of ILW.COM and Immigration Daily, a position he has held for over twenty years. As Publisher, he directs all activities of the website and newspaper with over 50,000+ pages of free information on immigration law that receives 250,000 visitors per month. Under Mr. Udani's direction ILW has conducted 600+ CLE seminars, published over two dozen immigration law books and conducted hundreds of immigration events in over a dozen countries.
Please let us know your thoughts by writing to us at
editor@ilw.com
Article: Internal Investigation Shows Appalling Carelessness from Border Patrol Led to Death of 8-Year-Old by Dara Lind for Immigration Impact

News: Employment and Training Administration Publishes Federal Register Notice (FRN) Updating the H-2A Hourly Adverse Effect Wage Rates (AEWR) for Non-Range Occupations Using the Occupational Employment and Statistics Survey (OEWS)


Focus: Washington DC and Seattle EB5 Events

The new EB5 Reform Act allows for concurrent filing of Adjustment of Status with I-526 applications, which gives investors residing in USA most of the benefits of a Green Card within a few months of investing. So Indian H1Bs in the US may be the single largest piece of the EB5 global market in 2023. ILW has conducted 175+ in person EB5 events in 30+ cities across USA

To find out more click Here
Headline: LA Mayor Karen Bass calls for comprehensive immigration reform, comments on Feinstein on CNN Click here
Headline: Florida immigration advocacy groups are pushing back against DeSantis' border policies Click here
Headline: As migrants arrive in Erie County, immigration reform debated among local Congressmen Click here
Headline: Progressives Fight to Give Immigrants Immediate Access to Medicare, Medicaid, and Other Federal Benefits Click here
Headline: Local immigration lawyer says Title 8 hasn't impacted his inquiries Click here

International Evaluations
International Evaluations is the trusted provider of credential evaluations, RFEs, expert opinions, and translations for US immigration. International Evaluations specialize in providing highly qualified academic, work experience, and professional position credential evaluations required for use in US immigration, employment, education, and professional licensing. International Evaluations are aware that each case is different, and the requirements are also specific. Therefore, take care of each case and attempt to solve them according to the client's specifications. Our professional attitude, competitive rates, on-time guarantees, and personalized service makes International Evaluations the top choice for immigration lawyers, employers, and individuals. Website: https://www.internationalevaluations.com/ Phone: Office: (510) 770-8700 , Cell: (510) 830-8771. Email: info@internationalevaluations.com