Comment: Undocumented Aliens, FY2021 Cap-Subject Petitions
Today's Immigration Daily issue features several items of interest, including Articles, Bloggings and News about Undocumented Aliens, FY2021 Cap-Subject Petitions and more. Please scroll down to find the item(s) below.
Please let us know your thoughts by writing to
editor@ilw.com.
Article: Congress Passes Bill Ensuring US Citizenship for Children of Military Members By Katy Murdza
Article: Essential COVID-19 Immigration Planning for US Employers By Angelo A. Paparelli, Jason Burritt, Gabriel Mozes, and Dyann DelVecchio Hilbern
Blogging: Could we see 'internment camps' for undocumented aliens in the US? By Nolan Rappaport
Blogging: Coronovirus related job losses make Public Charge rule more destructive for nonwhite immigrants, while Trump sends racist "Chinese virus" tweet By Roger Algase
News: USCIS Announces Temporary Suspension of Premium Processing for FY2021 Cap-Subject Petitions
Focus: EB5 and Cities with Ultra Rich Residents

Mapped: The Cities With the Most Ultra-Rich Residents
As of 2018, there is a grand total of 198,342 ultra high net worth individuals (UHNWIs) globally with assets over US$30 million, according to the most recent edition of Knight Frank's Wealth Report .
Although these millionaires and billionaires can be found all over the globe, the reality is that most of the world's ultra-rich population tends to congregate in world-class cities.
Generally speaking, UHNWIs are looking to live in places that are conducive to safeguarding and growing their wealth, but that also give them access to top-end amenities that allow them to live comfortably and luxuriously.
Top 10 Cities for the Ultra-Rich
To start, we'll look at a list of global cities, organized by expected number of UHNWIs in 2023:
London continues to top the list, with a roster of 4,944 ultra-rich residents today and the projected growth over the coming years to eclipse the 6,000 mark by 2023.
Tokyo has the second highest amount of UHNWIs today, but the city is adding them at a slower rate than other rival cities. As a result, Singapore will move into the #2 spot overall by 2023, with an expected total of 4,393 high net worth residents.
Finally, it's worth noting that only two cities on the top 10 list are expected to see growth above a 30% clip over this five-year period. Shanghai and Beijing could be cities to watch for decades to come, as they add millionaires and billionaires at a faster rate than any of the other heavyweights.
Fastest Growing Cities
Where are the billionaire meccas of the future?
Here are the 10 cities that are expected to add UHNWIs the fastest between 2018-2023: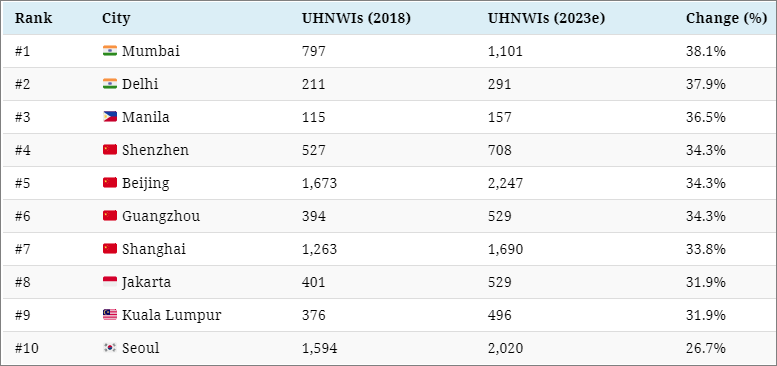 Not surprisingly, all 10 of these cities are located in Asia.
Two Indian cities (Delhi and Mumbai) top the list, and are likely to add nearly 40% to their ultra-rich populations over the next five years. China also has a strong showing here.
Interestingly, just missing the above top 10 were a few non-Asian cities: Auckland (#11), Madrid (#12), Munich (#13), and Nairobi (#14) are all expected to grow their UHNWI populations by roughly 25% by 2023.

(This article was originally published on Visual Capitalist website here . )

Whether doing EB5 is a good decision for a person or not depends on one's net worth relative to the EB5 investment amount--in addition to other factors. Since the price of EB5 investment has increased from $500K to $900K, the number of people for whom doing EB5 makes financial sense has reduced.
Contact us by emailing us at webmaster@ilw.com , calling us at 212-545-0818 or online .
Headline: Coronavirus updates: Stocks rally, $1,000 for all considered, blood donors needed, death toll reaches 94 Click here
Headline: How federal agencies put immigrants and immigration workers at risk amid coronavirus Click here
Headline: Risk behind bars: Coronavirus and immigration detention Click here
Headline: Could we see 'internment camps' for undocumented aliens in the US? Click here
Headline: Migrants waiting at US-Mexico border at risk of coronavirus, health experts warn Click here

Foreign Credential Evaluations & Translations
American Evaluation & Translation Service, Inc. (AETS) is the industry leader in foreign credential evaluations and certified document translations. AETS provides the most competitive rates in the industry - including educational evaluations using the Aacrao EDGE database, as well as expert opinion work experience and position evaluations completed by university professors who have the "authority to grant college level credit for work experience and/or training." AETS offers a variety of turn-around times, including same-day service for Educational and Work Experience Evaluations, and Expert Opinion Position Analysis and Position Evaluations. For list of rates and times, see: http://www.aetsinternational.com/ AETS also provides certified translations in 100+ languages, with translators that are specialists in 80+ fields. For a copy of the Application for Credential Evaluation and Translation Services, please visit the following link: http://www.aetsinternational.com/translation-services/ Please contact AETS at anytime at (786) 276-8190, visit http://www.aetsinternational.com, or email: info@aetsinternational.com. New customers to AETS will receive a one-time 25% discount on their first Educational Evaluation request. (*Please mention promotion code: AETS.ILW.25 to receive the one-time discount.)
ComingsNGoings: Submit Your Announcement
If you have a professional announcement such as: New Position, Honors And Awards, Mergers & Acquisitions, New Office Address, New Appointment, New Associate, New Attorney, New Partner, that you wish to share with the Immigration Daily community, send your professional announcement to: editor@ilw.com comingsNgoings announcements is a free service
---
An Important disclaimer! The information provided on this page is not legal advice. Transmission of this information is not intended to create, and receipt by you does not constitute, an attorney-client relationship. Readers must not act upon any information without first seeking advice from a qualified attorney. Copyright 1995-2017 American Immigration LLC, ILW.COM. Send correspondence and articles to editor@ilw.com. Letters and articles may be edited and may be published and otherwise used in any medium. The views expressed in letters and articles do not necessarily represent the views of ILW.COM.
---
Publisher: Sam Udani ISSN: 1930-062X
Advisory Board
: Jason Dzubow, Rami Fakhoury, Matthew Kolken, Chris Musillo, Lory Rosenberg, Greg Siskind, Joel Stewart, Margaret Wong