My Supreme Court Nominee: Cuéllar
President Obama has committed to nominating someone to fill the SCOTUS seat unexpectedly vacated by Antonin Scalia. So, Barack, if I can call you that, should you be reading this blog, let me give you my two cents: Mariano-Florentino ("Tino") Cuéllar is your guy.
Cuéllar is, by any metric, an all star.
He was born in Northern Mexico, and is a naturalized U.S. citizen. And, in case you're worried about that, remember that Justice Felix Frankfuter was a naturalized citizen. So that shouldn't be a hurdle.
It's hard to beat Cuéllar's academic record: He received a B.A. from Harvard magna cum laude, a J.D. from Yale Law School, and a Ph.D. in Political Science from Stanford. That's a lot of education. He won't be challenged as a lightweight.
Right now, he's proving his judicial chops as an Associate Justice on the California Supreme Court. Sure, he's only been in that job a little over a year. But prior to that he was a tenured professor at Stanford Law School. And don't forget he took leave from that gig to come help you out as Special Assistant to the President for Justice and Regulatory Policy in 2009 and 2010.
Cuéllar was no schlub prior to landing as Stanford. He worked in the U.S. Treasury Department's Office of Enforcement and clerked for Chief Judge Mary M. Schroeder of the U.S. Court of Appeals for the Ninth Circuit.
This guy is impressive. And he seems pretty Senate-proof. You should fly him out to D.C. for a chat.
This post originally appeared on Law Professor Blogs. © Copyright 2004-2016 by Law Professor Blogs, LLC. All rights reserved. Reprinted with permission.
---
About The Author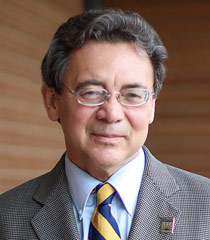 Kevin Johnson is Dean, Mabie-Apallas Professor of Public Interest Law, and Professor of Chicana/o Studies. He joined the UC Davis law faculty in 1989 and was named Associate Dean for Academic Affairs in 1998. Johnson became Dean in 2008. He has taught a wide array of classes, including immigration law, civil procedure, complex litigation, Latinos and Latinas and the law, and Critical Race Theory. In 1993, he was the recipient of the law school's Distinguished Teaching Award.Dean Johnson has published extensively on immigration law and civil rights. Published in 1999, his book How Did You Get to Be Mexican? A White/Brown Man's Search for Identity was nominated for the 2000 Robert F. Kennedy Book Award. Dean Johnson's latest book, Immigration Law and the US-Mexico Border (2011), received the Latino Literacy Now's International Latino Book Awards – Best Reference Book. Dean Johnson blogs at ImmigrationProf, and is a regular contributor on immigration on SCOTUSblog. A regular participant in national and international conferences, Dean Johnson has also held leadership positions in the Association of American Law Schools and is the recipient of an array of honors and awards. He is quoted regularly by the New York Times, Los Angeles Times, and other national and international news outlets.
---
The opinions expressed in this article do not necessarily reflect the opinion of
ILW.COM
.