House Bi-Partisan Budget Deal Gives Hope to Immigration Activists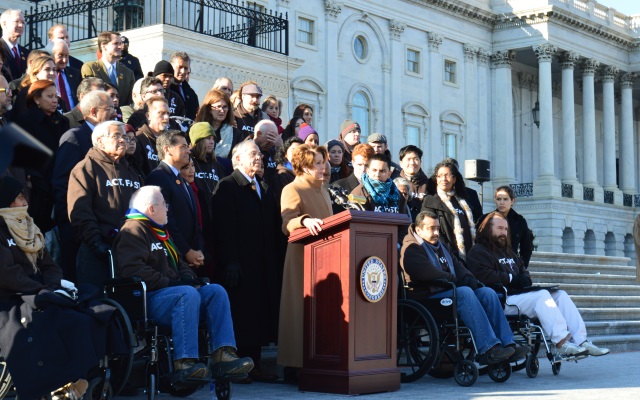 One day before Congress left town for the holiday recess, the House of Representatives approved a two-year budget deal by a wide margin. Despite some GOP opposition to the plan, House Speaker John Boehner allowed a vote on the plan, which passed with a majority of Democratic and Republican votes. The budget outline now heads to the Senate for a vote. Before the vote on Thursday, Boehner attacked extremely conservative factions within his party who he said were standing in the way of progress. He told reporters these groups were "misleading" and added, "I think they're pushing our members in places where they don't want to be. And frankly, I just think that they've lost all credibility."
Immigration advocates took it as a positive sign that Boehner would buck his tea party critics and allow a vote on a budget outline that helps avert a government shutdown in January. Boehner's criticism of groups that have been vocally opposed to immigration reform and hiring a new staff member to focus on immigration legislation leads some to believe that House leaders will take up bills in 2014 to fix the nation's immigration system. Additionally, House Judiciary Committee Chairman Bob Goodlatte said at a hearing Thursday that immigration reform would be a "top priority" in 2014 for the House.
At the same time, immigration activists are not stepping down from their push for improved immigration policies in the U.S. More than 1,000 supporters flooded about 170 congressional offices to ask the members to back legislation and to draw attention to House leaders' inaction on immigration reform bills this year despite the fact that a majority of Americans favor reform that includes a pathway to citizenship for undocumented immigrants. In House Majority Leader Eric Cantor's office, the New York Times reports, the Rev. Carmelo Santos, a Lutheran pastor from Cantor's district, prayed for him to "find his way to a good compromise" to help immigrants living in the U.S. And after the vigils, House Minority Leader Nancy Pelosi stood on the Capitol steps with dozens of Democratic lawmakers and those who have been fasting for immigration reform to say they would not back down from their push for immigration reform, according to the New York Times:
"For us, it is inevitable that we will pass comprehensive immigration reform," Ms. Pelosi said. "For some, it is inconceivable, and they will stand in the way. But we know it will happen, and we just have to shorten the time." […] Representative John Lewis, Democrat of Georgia, said simply, "Please, Mr. Speaker, bring the bill to the floor."
Another clear symbol of growing the momentum for reform has been the Fast for Families on the National Mall where advocates have gone without food while pushing for House leaders to allow a vote on immigration reform. They ended the fast on Thursday after 31 days but promised it was not the end of their activism but a continuation. "This is an issue of who we are as a people," said Eliseo Medina, a labor activist who fasted for 22 days, about the ongoing push to fix the immigration system. And he added, "This is wrong. We are not in the business of tearing families apart or letting people die needlessly."
Photo Courtesy of Representative Pelosi.
Printed for the Immigration Policy Center by Amanda Peterson Beadle.
---
About The Author

Amanda Peterson Beadle is a Reporter/Blogger at ThinkProgress.org. She received her B.A. in journalism and Spanish from the University of Alabama, where she was editor-in-chief of the campus newspaper The Crimson White and graduated with honors. Before joining ThinkProgress, she worked as a legislative aide in the Maryland House of Delegates. In college, she interned at the Scripps Howard Foundation Wire, the Press-Register (Mobile, Alabama), and the Ludington Daily News. She is from Birmingham, Alabama.
---
The opinions expressed in this article do not necessarily reflect the opinion of ILW.COM.