The*Daily Mail*reports that a "pair of Pakistani women have made history as the first Muslim lesbian couple to get married" in the United Kingdom:
*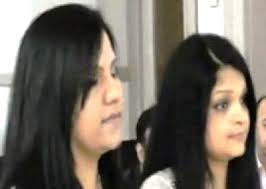 The couple could not find an Imam to marry them or, apparently, a decent wedding photographer (focus!).
Rehana Kausar, 34, and Sobia Kamar, 29, made history when they tied the knot in a register office civil ceremony, then immediately*applied for political asylum after they were wed, claiming their lives would be in danger if they*returned to their native country.
The pair, from the Lahore and Mirpur regions of Pakistan, said they had received death threats from opponents in Pakistan – where homosexual acts are illegal and considered against Islam.*And since news of their wedding earlier this month spread, the pair claimed they had even received death threats from the UK.
The couple was not married in an Islamic ceremony because they could not find an Imam in Britain willing to marry them.
Pakistan has become a fairly violent and lawless society, and–given this couple's visibility and the death threats they have received–I suspect that their asylum claim will have a high probability of success.
A quick review of reader comments about the Daily Mail article shows that people's main concern is that the women's case will open the floodgates, and that anyone claiming to be gay will be able to obtain asylum in the UK (just so you know, my summary of the reader comments is more polite than the actual comments). I am not so sure that this concern is justified.
For one thing, the situation in Pakistan is not as bad as you might imagine for many LGBT people. The*New York Times*reported on this issue last year:
Homosexual acts remain illegal in Pakistan, based on laws constructed by the British during colonial rule. No civil rights legislation exists to protect gays and lesbians from discrimination.
But the reality is far more complex, more akin to "don't ask don't tell" than a state-sponsored witch hunt. For a long time, the state's willful blindness has provided space enough for gays and lesbians. They socialize, organize, date and even live together as couples, though discreetly….
[W]hile the notion of homosexuality may be taboo, homosocial, and even homosexual, behavior is common enough. Pakistani society is sharply segregated on gender lines, with taboos about extramarital sex that make it almost harder to conduct a secret heterosexual romance than a homosexual one.
Now that the marriage of Rehana Kausar and Sobia Kamar is so public, they do not have the option of being discrete. Other same-sex couples might not be so visible, and therefore would be less likely to qualify for asylum (many LGBT cases have been*denied*by the UK because the asylum seekers cannot demonstrate visibility or cannot submit sufficient proof to demonstrate that they are gay).
Also, most same-sex couples will probably not face death threats. And if they do face threats, the threats will most likely come from family members. To win asylum under those circumstances, they would need to show that the government is unable and unwilling to protect them and that they cannot safely relocate within the country.
Finally, while this couple was the first Muslim lesbian couple to wed in the UK, there is nothing new about LGBT people seeking asylum. I have represented many such people in the U.S. and, with one exception (from Fiji), they all received asylum. If the floodgates were going to open for LGBT asylum seekers, it would have happened a long time ago. This most recent case is (unfortunately) just one of many where an LGBT individual will be harmed if she returns to her country.
While the case of Rehana Kausar and Sobia Kamar is significant because it is a "first," I don't see how it is significant in terms of developing the law for LGBT asylum seekers. Given what I know of the situation in Pakistan, my guess is that this couple faces a significant threat of harm or death. I hope the UK will see fit to grant their application for protection.
Originally posted on the Asylumist: www.Asylumist.com.*
---
About The Author

Jason Dzubow's practice focuses on immigration law, asylum, and appellate litigation. Mr. Dzubow is admitted to practice law in the federal and state courts of Washington, DC and Maryland, the United States Courts of Appeals for the Third, Fourth, Eleventh, and DC Circuits, all Immigration Courts in the United States, and the Board of Immigration Appeals. He is a member of the American Immigration Lawyers Association (AILA) and the Capital Area Immigrant Rights (CAIR) Coalition. In June 2009, CAIR Coalition honored Mr. Dzubow for his Outstanding Commitment to Defending the Rights and Dignity of Detained Immigrants.In December 2011, Washingtonian magazine recognized Dr. Dzubow as one of the best immigration lawyers in the Washington, DC area; in March 2011, he was listed as one of the top 25 legal minds in the country in the area of immigration law. Mr. Dzubow is also an adjunct professor of law at George Mason University in Virginia.
---
The opinions expressed in this article are those of the author(s) alone and should not be imputed to ILW.COM.