If you go to the White House's
official website
, you will see this article: "What You Need To Know About The Violent Animals Of MS-13." The article claims that the "violent animals of MS-13 have committed heinous, violent attacks in communities across America." Indeed, the two-page article uses the term "animal" in reference to MS-13 gang members a total of 10 times. What to make of this?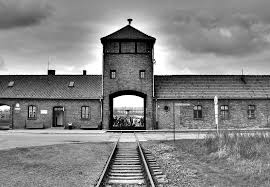 The path of dehumanization always ends at the same place.
On the one hand, there is no doubt that MS-13 is a violent, criminal gang, that causes great misery in many communities, especially in Central America, but also in the U.S. I've met and represented many individuals who were victims of this gang. My clients have been attacked by machetes, shot, raped, threatened, and had family members murdered. For victims of MS-13, no language can adequately express their disgust and anger towards the gang.
But here, we are not talking about victims. We are also not talking about over-heated pundits on cable news. We are talking about the United States government. And when the United States government, and our President, refers to people--even criminals--as "animals" that is not simply hyperbole. It is a dangerous step towards fascism and genocide. And I do not mean this in any metaphorical or rhetorical way. Dehumanizing people--even bad people--has historically been a first step towards mass murder.
President Trump's characterization of MS-13 gang members as "animals" reminds me of the Rwandan government's rhetoric prior to the 1994 genocide. Tutsis were
referred to
as "cockroaches." At the time, Rwanda was involved in a
civil war
, which pitted the Hutu-majority government against the Tutsi-majority rebels. The Rwandan government had reasons to speak ill of Tutsi rebels, and certainly those rebels were no angels. However, the demonization and dehumanization of the enemy went well beyond the rebel soldiers--it extended to all Tutsis.
In the same vein, perhaps the strong language against MS-13 can be justified. After all, many gang members have committed vicious crimes. But just as rhetoric against Tutsi rebels ultimately harmed innocent Tutsi civilians, the impact of the President's words will stretch well beyond members of the MS-13 gang. Here's more from the White House
website
--
Recent investigations have revealed MS-13 gang leaders based in El Salvador have been sending representatives into the United States illegally to connect the leaders with local gang members. These foreign-based gang leaders direct local members to become even more violent in an effort to control more territory
So does this mean that all people from El Salvador are suspect? Are they all "animals"? And when we are selecting people for dehumanization, how do we know where to stop? How do we know who is actually a member of the gang? What about people forced into the gang who are trying to escape, or people who simply look like gang members (whatever that means), or former gang members? Where is the due process in the dehumanization?
And if you think that mere words are not dangerous, or they can be dismissed as "Trump being Trump," let's remember how the Nazis engineered the mass killing of millions of Jews and other "undesirables" during World War II. From the
U.S. Holocaust Memorial Museum
--
Exploiting pre-existing images and stereotypes, Nazi propagandists portrayed Jews as an "alien race" that fed off the host nation, poisoned its culture, seized its economy, and enslaved its workers and farmers. This hateful depiction, although neither new nor unique to the Nazi Party, became a state-supported image
The Nazis portrayed the Jews as a threat to the Fatherland. Jews were not people; they were aliens. There was even "evidence" for the threat: Some Jews were wealthy; others were Marxist. These vile stereotypes existed long before the Nazis, but when they were adopted by the German government, they led to genocide.
In our own time, many commentators and activists have been dehumanizing non-citizens. These modern-day
blood libels
have always been disgusting and disgraceful. But when the President and the U.S. government get into the act, it raises the danger to a whole new level. And we are seeing that play out now, most recently in the government's decision to
rip apart parents and children
who arrive at the border seeking asylum (in many case from--ironically--MS-13). Could we tear families apart and separate children from their parents if we viewed these people as human beings? This is dehumanization in action, and the harm it will cause is very real.
Let's not mince words about what is happening here. The White House, the President of the United States, and the U.S. government are referring to human beings as "animals." And when governments negate the humanity of people--even people deemed undesirable--it puts us on a path where the only destination is death. All of us have a responsibility to bring back humanity and decency to our country. Let us resolve to do what we can before it is too late.
Originally posted on the Asylumist:
www.Asylumist.com
.