With all the bad news related to refugees and asylum seekers, I thought it might be nice to discuss something positive: What happens when an asylum case is granted?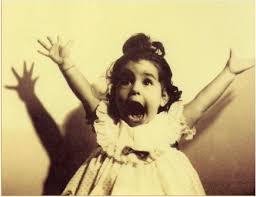 One of my clients celebrates her asylum grant.
The fact is, despite the best efforts of the Trump Administration, people are still winning their cases. They are winning affirmatively at the Asylum Offices, and defensively in the Immigration Courts. There are some differences between an affirmative and a defensive grant, and we'll talk about those first.
If an applicant wins at the Asylum Office, she receives a letter indicting that asylum was granted. The date on the letter and the date of the asylum grant are usually not the same. To find the date that asylum was granted, look in the body of the letter on the first page. It will indicate that "asylum was granted on" a certain date. This is the date that matters for purposes of applying for a green card and obtaining certain government benefits.
If asylum is granted in Court, the Immigration Judge will issue an order stating that asylum is granted. If the DHS attorney appeals, the case is not over, and will have to be adjudicated by the Board of Immigration Appeals. But if DHS does not appeal (or if the BIA has already indicated that asylum must be granted), then the case is over and the applicant has asylum. There is one more step that the applicant must take in order to complete the process. The person must bring his approval order and photo ID to USCIS, which will issue an I-94 indicating that the person has asylum, and will also create a new Employment Authorization Document ("EAD"). You can learn about that process
here
(check the link called
post-order instructions
).
As soon as asylum is granted, you are eligible to work in the United States, even if you do not have an EAD (see
Working in the United States
). You can also get an unrestricted Social Security number by contacting the
Social Security office
.
A person who wins asylum can file an
I-730 petition for her spouse and children
. To qualify for an I-730, the marriage must have existed prior to the date that asylum was granted. For a child to benefit from an I-730, the child must have been
under 21 and unmarried at the time the asylum application was filed
. If the child turned 21 before the asylum case was granted, he is still eligible to benefit from the I-730. However, if the child married after the case was filed, he is not eligible to bring his own spouse and children to the U.S. through the I-730 process.
One year after asylum is granted, the
alien may file for her lawful permanent residency ("LPR")
(her green card) using form I-485. We used to advise people that they could file for the green card 30 days prior to their one-year asylum anniversary, and this used to work. But then we filed a green card application early, and USCIS rejected it. Since then, we have advised our clients to wait one full year before filing for their residency. Principal asylum applicants do not generally receive a green card interview, but dependents usually do. When you receive the LPR card, it will be back-dated by one year (so if you get the card on May 21, 2018, it will indicate that you have been an LPR since May 21,
2017
). You can apply for
U.S. citizenship
based on the earlier date listed on the card.
A person who wins asylum can obtain a Refugee Travel Document using
form I-131
. This document is valid for one year and is used
in lieu of a passport
, but there are some limitations. For example, returning to the country of feared persecution can result in termination of asylum status or lawful permanent residency (I wrote about this
here
). Also, not every country will accept the RTD as a travel document, so you have to check with the country's embassy in advance.
People granted asylum may also be eligible for certain government benefits, including referrals for short-term cash and medical assistance,
job development
, trauma counseling, and English as a Foreign Language services. The Office of Refugee Resettlement has a
state-by-state collection of agencies
that can help with these and other services (once you identify agencies near you, you have to contact them directly). For those granted asylum affirmatively, the Asylum Office sometimes holds meetings to explain the benefits available to asylum seekers. You would have to ask your
local Asylum Office
about that. Be aware that after the case is granted, you have a very limited time to access most services, and so the sooner you reach out to provider organizations, the better.
Asylees are eligible to attend university (asylum applicants who have an EAD are also eligible to attend most universities). In many cases, universities offer in-state tuition to people with asylum. There may also be scholarships available. You would have to reach out directly to the university to learn more about tuition discounts and scholarship money.
Asylees also have certain legal obligations. If you are a male asylee (or a dependent) between the ages of 18 and 26, you must register for
Selective Service
. LPRs and citizens are also required to register. Also, like everyone else, asylees have to pay taxes and follow the law.
Finally, asylees and LPRs must inform USCIS whenever they move to a new address. You are required to do this within 10 days of the move. You can notify USCIS of your new address by mailing them
form AR-11
or filing it electronically. Either way, keep evidence that you filed the change of address form.
Especially these days, I view every asylum win not only as a victory for the individual, but also as a victory for our country. Whether our leadership understands it or not, our nation is defined in large part by how we treat those coming to us for refuge. So if you have been granted asylum in the U.S., thank you for still believing in the American Dream--it helps the rest of us keep believing as well. And of course, Welcome to the USA!
Originally posted on the Asylumist:
www.Asylumist.com
.