My law partner and I are adjunct professors at GW Law School, where we teach Asylum and Refugee Law (yes, we are basically one-trick ponies). This week, we learned that a scheduled debate called "Immigration 2018: Words Matter" was effectively canceled after one of the panelists was dis-invited due to his affiliation with the
Center for Immigration Studies
("CIS"), an organization that some consider a hate group.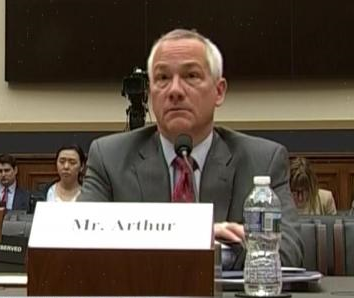 Andrew Arthur: Master debater
The
event
was billed as a "debate on the words used in the immigration debate." Panelists were to discuss "words and phrases like maras, chain migration, criminal alien, and others." The controversial panelist was
Andrew Arthur
, a Resident Fellow at CIS, and a former Immigration Judge (and a GW alum). However, Judge Arthur's association with CIS proved controversial and ultimately led to the dis-invitation.
I can't really discuss the situation at GW, as I don't know all the details. Instead, I want to talk more generally about why it is so important for immigrant advocates to engage with groups like CIS.
Let's start with the organization itself. CIS bills itself as "low-immigration, pro-immigrant." It wants to restrict the number of foreigners we allow into the United States. In contrast, the Southern Poverty Law Center has labeled CIS an
anti-immigrant hate group
due to its founder's alleged ties to white supremacists and because it circulates writings by supposed white nationalists and anti-Semites.
As you might guess, I'm not a huge fan of CIS either, and I have found some of their writers to be
intellectually dishonest
and
needlessly divisive
(though at least one of their writers thinks I'm a
babe
, which is quite flattering). However, my overall observation of the organization is that it is making important contributions to the immigration debate, and that its policy positions are generally within the mainstream of our society (unfortunately). For these reasons, I believe CIS's viewpoints deserve serious attention from those of us who care about immigration policy. Also, I'm skeptical of the SPLC's designation of CIS as a hate group. While I support the SPLC and believe it does vital work, I think designating CIS as a hate group is a stretch.
Further, even if you have a lower tolerance for hate than me, and you believe CIS
is
a hate group, that does not seem a good enough reason to exclude its writers from the immigration debate. CIS is in-like-Flynn with the current Administration, and so its views really can't be ignored. Also, there are many Americans---including many in the main stream media--who do not view CIS as a hate group, and who pay attention to its opinions. Thus, we need to listen to the organization's views in order to better understand people who seek to restrict immigration.
I'm not arguing that we need to engage with all individuals or groups that seem hateful. Some people are simply beyond the pale (David Duke, Richard Spencer) or exist merely to provoke reactions rather than advance any real policy agenda (Ann Coulter, Milo Yiannopoulos). Such people have little to contribute to any real discussion on immigration (or anything else), and exist mostly just to promote themselves. Giving them a platform is not productive. But that's not CIS, and when we fail to engage with legitimate and/or influential organizations, the quality of our national debate is diminished.
There are other reasons to engage with CIS as well. For one, when we fail to engage, we effectively abandon the field to the opposition. While it may seem a principled stand to refuse to debate with a "hate group," that's not how the majority of Americans--who only pay periodic attention to immigration issues--will interpret the situation.
Indeed, we need to be present when groups like CIS
distort the facts
, which they sometimes do, and we also need to articulate alternatives to their restrictionist policy proposals. We cannot correct the record or advocate for our own vision unless we are part of the conversation.
There's also the matter of scoring political points. While I dislike the sophistry of cheap "point scoring" in our political debates, this is still part of the equation. Dis-inviting a group like CIS only plays into the organization's hands. What will they and their allies say about a dis-invitation? Frankly, it doesn't look good, and it tends to bolster right-wing tropes about "snowflakes" and "PC campus culture."
Finally, there's the issue of safety. Some people (immigrants, for example) might feel targeted by CIS, and perhaps this is a reason to avoid engagement with the organization. In fact, CIS
does
target immigrants in its policy proposals (the "pro-immigrant" part of its mission statement notwithstanding), and so there is some justification for this concern. But in my opinion, individuals who feel targeted by CIS need to understand the organization's policy positions so that they can help refute those positions. Such individuals also need to explain to CIS how its work hurts real life people. Another aspect of this is that many of CIS's proposals would harm the weakest members of our society, and so we need to engage with the organization in order to stand up when defenseless people are bullied.
In the end, I don't think we have anything to fear from engaging with CIS. We "pro-immigrant" advocates largely have logic, humanity, and American values on our side. The hard work lies in engaging with those who disagree with us, and hopefully moving our nation in a better direction.
Originally posted on the Asylumist:
www.Asylumist.com
.