Let's say it's your goal to deport as many people as you can get your hands on. You believe that most asylum seekers are fraudsters and you hope to make America great again by cutting programs like TPS and DACA in order to remove as many foreigners as possible. In other words, let's say you are a member of the Trump Administration. In that case, will case completion quotas in Immigration Court help you achieve your goal?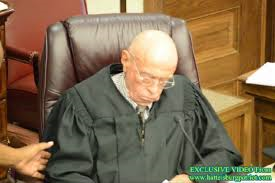 Maybe if IJs were less lazy, they would complete more cases.
Superficially, it seems that they might. If Immigration Judges ("IJs") are required to complete more cases, it makes sense that more people will be deported. Presumably with that goal in mind, the Executive Office for Immigration Review ("EOIR")--the office that oversees the nation's Immigration Courts--has recently created
performance metrics
to evaluate IJs based, in part, on the number of cases completed.
In order to achieve a "satisfactory" level of performance, IJs must now complete at least 700 cases per year, with less than a 15% remand rate (the "remand rate" is the percentage of decisions overturned by a higher court). IJs who complete between 560 and 700 cases "need improvement," and IJs who complete less than 560 cases per year are deemed "unsatisfactory."
For what it's worth (a lot, in my opinion), the
National Association of Immigration Judges
(the IJs' union)
opposes the new plan
because they fear quotas will infringe on the IJs' independence. For its part, EOIR
contends
that using metrics to evaluate performance is "neither novel nor unique" and that it will "encourage efficient and effective case management while preserving immigration judge discretion and due process."
I recently had the opportunity to speak to an IJ and a few court personnel about the new quotas, and they seemed nonplussed. In Baltimore, for example, I'm told that IJs with "regular" (as opposed to juvenile) dockets already complete well over 700 cases per year. The one IJ I spoke to said he completed 1,100 cases last year. Those number are well above average, according to the statistics I could find.
Five months into FY 2018, the nation's IJs
completed
a total of 83,643 cases. Divide that by 330 judges, and you get an average completion rate for the U.S. of about 51 cases per month, or about 608 cases per year. Based on the
statistics
for Baltimore and my calculations (which are always suspect), the average IJ in that court will complete 855 cases this year. So why are Baltimore IJs so much more efficient than the national average?
As usual, I do not know. But looking at the case completion rates for other courts perhaps gives us a clue. In Miami-Krome, a detention center, the completion rate is about 739 cases per year per IJ. I would have expected a higher completion rate in a detention facility, as detained cases tend to move faster than non-detained (indeed, if you see a detained case file at EOIR, it will be labeled with a bold sign indicating "Rush--Detained at Government Expense"). Other detention facilities have even lower case completion rates: Eloy, AZ completes 658 cases per IJ per year, Harlingen, TX completes 516, and Elizabeth, NJ completes 457.
I suspect what's going on with these variable rates has more to do with cases being venued to other courts than with IJ efficiency. In other words, many aliens in detention facilities are there because they were detained while trying to enter the U.S. Some percentage of these people are released, and then move to another part of the United States, where they pursue their cases. Thus, IJs near the border and at certain detention facilities (near airports or the border) tend to complete fewer cases because their cases are transferred to other courts. In my Baltimore example, there is no major detention facility nearby, and most people do not transfer their cases elsewhere. Hence, IJs in Baltimore tend to complete the cases that come before them.
The completion rate at other courts is more of a mystery. New York completes 540 cases per IJ per year, for example. LA completes only 477 cases per year (LA is near the border, so maybe some aliens are moving their cases to other jurisdictions).
In short, without better data, it is difficult to know what is going on. One thing does seem clear though: Grant rates vary significantly by court. Thus, for some IJs, the new quotas will be a non-issue. They already complete more than enough cases to earn the distinguished title of "satisfactory." For other IJs, completing 700 cases, or even 560 cases, might be impossible. If so, the new quotas may force those judges to circumvent due process in order to fulfill EOIR's mandate.
The new quotas raises other questions as well. The biggest one for me involves the anticipated influx of TPS and DACA recipients whose status has been terminated. It's widely believed (including by yours truly) that many of these people will file for asylum rather than depart the United States. In an effort (probably futile) to dissuade such people from seeking asylum, USCIS has already re-ordered how cases will be processed, so that newly-filed cases will be interviewed first. If those cases are denied, they will be sent to court, where--according to one official I spoke to--they are supposed to be heard on an expedited basis. But how can that happen unless the court dockets are re-ordered? This "aimless docket reshuffling" (a termed coined by the inimitable
Judge Schmidt
) will pretty clearly interfere with the IJs' ability to meet EOIR's quotas.
So in the end, it seems that the new quotas will have no affect on some IJs, and dramatic affects on others. Whether overall completion rates will be improved, I have my doubts, especially if dockets are reshuffled to accommodate an influx of TPS and DACA recipients. I also have doubts about whether IJs who are forced to drastically increase their completion rates will be able to continue making decisions in accordance with due process of law. Sadly, the Trump Administration seems far more concerned about quantity than quality, and I fear that asylum applicants, immigrants, and our nation's IJs will all suffer because of it.
Originally posted on the Asylumist:
www.Asylumist.com
.