It's been a month since the Asylum Division surprised us by
changing
from a first-in, first-out (FI-FO) system to a last-in, first-out (LI-FO) system. Under the new system, cases were supposed to be interviewed in the following
order of priority
: (1) Applications that were scheduled for an interview, but the interview had to be rescheduled at the applicant's request or the needs of USCIS; (2) Applications that have been pending 21 days or less; and (3) All other pending affirmative asylum applications will be scheduled for interviews starting with newer filings and working back towards older filings. So in other words, the Asylum Offices would interview newly filed cases first; then, if they had extra time, they would interview recently filed cases, working their way backwards through the backlog.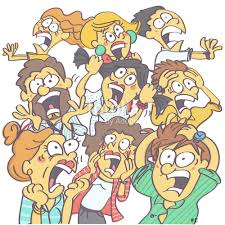 How's the new LI-FO system working out for you?
We're now a month in, and the new system is not working exactly as advertised. In our office, for example, we had one client whose case was filed in mid-January 2018. The case was scheduled for an interview earlier this week (we postponed it, as we needed more time to gather evidence). This is about what we expected under the LI-FO system. Another client, whose case was filed in August 2014 was scheduled for an interview in mid-March. The Asylum Office mailed out the interview notice in mid-February, at a time when LI-FO should have been in place. This is not what we were expecting. So what the heck is happening?
It turns out that different Asylum Offices are implementing the LI-FO system in different ways. In a conference call with AILA (the American Immigration Lawyers Association), the Asylum Division informed us that if they do not have enough new cases to fill their schedule, Asylum Offices will interview cases from the backlog. The different offices apparently have the authority to decide which backlogged cases they will choose to interview--old cases, new cases or (I guess) whatever cases they feel like interviewing.
In my local office--Arlington, Virginia--it seems they are interviewing old backlog cases--from 2014. This is contrary to the
interview priorities published on January 31, 2018
, where the Asylum Division indicated they would work their way backwards through the backlog. It sounds like other Asylum Offices will interview newer backlogged cases--from January 2018 or December 2017, in conformity with the published priorities.
On one level, my preference is that the Asylum Offices interview older cases first, as that seems more fair. But frankly, at this point, my main concern is that they just make a decision and stick with it. It's bad enough that the Asylum Division announced a surprise change and basically upended the expectations of asylum seekers (and their lawyers). But now, it seems they can't even follow their own policy.
For advocates, including yours truly, this makes it very difficult to know how to prioritize cases and advise clients. Worse, so much uncertainty makes it even more difficult for asylum seekers to endure the long waits.
Of course, all things pass, and my guess is that we are currently in a period of transition. After the recent change to LI-FO, many attorneys and applicants stopped filing cases. Prior to the change, we were filing bare-bones asylum applications with the intention of finishing the cases later, as the interview date approached. But now, given the (supposed) short time between filing the case and receiving the interview, we have to file completed cases. It takes more time to prepare complete cases, and so we are adjusting how we do things. As a result, fewer cases are being filed and the Asylum Offices have a brief pause to work on backlogged cases.
However, once everyone re-calibrates, I expect the volume of new asylum applications will return to normal, and the Asylum Offices will probably be interviewing new cases, and maybe--if we're lucky--some cases from the backlog.
Once things settle down, it would be nice to know how the different Asylum Offices plan to interview backlog cases going forward. That way, asylum seekers will have some idea what to expect, and attorneys can advise their clients and manage their caseload. In this sense, the now-defunct Asylum Office Scheduling Bulletin was quite helpful. At least we had some idea about what was going on.
My hope is that the Asylum Offices will choose to provide us with some information about how they are operating. This shouldn't be all that difficult since each office has its own
website
. Indeed, whether they are moving through their backlog from oldest to newest or from newest to oldest, I don't see why they can't simply tell us where they are.
And while I'm wishing, maybe they can also give other useful information on their website, like the deadlines for filing evidence and the procedures for rescheduling, expediting, and short-listing. Repeat customers like me already know the rules, but
pro se
applicants don't, and there is currently no easy way for them to find out. Why not simply post this information on the Asylum Office website for everyone to see?
I know that all this is probably asking for too much. I also know that the Asylum Offices are in a tough spot these days. The Trump Administration is clearly hostile to their mission of protecting
bona fide
refugees, and anything they do to make the process more user-friendly might come back to bite them. Also, they are potentially on the cusp of a massive surge in new cases, if nothing is done for DACA or TPS recipients. Nevertheless, it would be nice if they could follow the policy that they announced less than a month ago. Or, if they don't plan to follow the policy, at least keep everyone informed about what they are doing.
Originally posted on the Asylumist:
www.Asylumist.com
.