Richard Kelley is the Legal Program Coordinator for DC Center Global, an organization focused on supporting LGBTQI asylum seekers in Washington, DC. Most recently, Richard was a Senior Associate at the DC Affordable Law Firm, practicing immigration and family law. He is currently an associate at DLA Piper (USA). His full biography can be found here.

Contact Richard Kelley at richardkelley@thedccenter.org.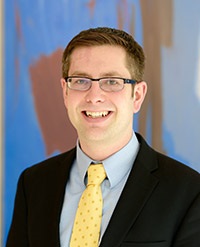 Richard Kelley
In 1996, the United States Congress passed the Illegal Immigration Reform and Immigrant Responsibility Act (IIRIRA), which fundamentally changed the landscape of asylum law. Most notably, IIRIRA created a new requirement that those entering the country had to apply for asylum within one year of arriving in the United States. This one-year bar has created exceptional challenges for individuals seeking asylum and has had a notable impact on LGBTQI asylum seekers in particular.
LGBTQI asylum seekers may miss this rigid one year deadline for several reasons: Insecurity about, discomfort with, or lack of openness about their identity; fear of being identified as LGBTQI or being "outed" as LGBTQI in their home country or in the immigrant diaspora within the United States; immense emotional and psychological trauma caused by experiences related to their LGBTQI status; or even lack of awareness that they can pursue asylum based on LGBTQI status. Individuals can often find themselves still exploring whether to apply for asylum based on sexual orientation even after one year has passed.
Those asylum seekers who are aware of the one-year bar may not know that it is not absolute. There are two ways that an asylum seeker can overcome the one year bar to asylum: (1) the existence of a changed circumstance which materially affects the applicant's eligibility for asylum, or (2) an extraordinary circumstance related to the delay in filing the application within the first year of entry. If an asylum seeker is able to demonstrate that he or she falls into one of these two exceptions "to the satisfaction of the asylum officer," the applicant must then show that the application was filed within a "reasonable period of time" after the changed or extraordinary circumstance.
See
INA § 208(a)(2)(D); 8 C.F.R. § 208.4(a).

What can be a change in circumstance?
If asylum seekers can show "the existence of changed circumstances which materially affect the applicant's eligibility for asylum," then they will only have to show that they applied within a reasonable period of time after the change in circumstance. The regulations indicate that a change in circumstance may include changes in conditions of the home country; changes in the applicant's circumstances (including changes in applicable U.S. law and activities the applicant becomes involved in outside the country of feared persecution); or, if the applicant is a dependent in another person's pending asylum application, the loss of the spousal or parent-child relationship.
See
8 C.F.R. § 208.4(a)(4).
For LGBTQI asylum seekers, this can take many forms. For example, if an asylum seeker's home country recently passed legislation that criminalized same-sex relationships or same-sex advocacy, or otherwise targets LGBTQI individuals, this could qualify as a change in circumstance. Additionally, a major change in how the country, including its police force, treats LGBTQI individuals could be a change in conditions at home. Unfortunately, many countries have had discriminatory laws on the books for years, even decades. Some laws banning same-sex relationships are holdovers from colonial rule. Much more likely for asylum seekers is a change in personal circumstances. Potential changes in circumstance could include being "outed" as LGBTQI at home, getting actively involved in LGBTQI advocacy groups, marrying a same-sex partner, or for transgender individuals, going through transition efforts, particularly gender-affirming surgery. The important thing for asylum seekers to understand is that it is critical to explain how this change in circumstance materially affects one's eligibility for asylum. Or stated differently, why does this new event create a reasonable fear of persecution that did not exist prior to the event occurring?

What might be an extraordinary circumstance?
A second option for asylum seekers who are not applying within one year of their entry into the United States is to demonstrate that there is an extraordinary circumstance related to the delay in filing the application. The regulations suggest several potential extraordinary circumstances that could justify a delay in filing, including serious illness or mental or physical disability, legal disability, ineffective assistance of counsel, maintenance of Temporary Protected Status or another lawful status, or a technical error. This list provided in the regulations, like the list of changes in circumstance, is not exhaustive.
See
8 CFR §208.4(a)(5).
LGBTQI asylum seekers can find themselves in situations where they may be able to demonstrate extraordinary circumstances related to their delay in filing. Perhaps the biggest group of asylum seekers who miss the one-year deadline are individuals who come to the United States on student visas or other temporary visas, and during their time in the U.S. either come out publicly or engage in advocacy around LGBTQI issues that subsequently creates a reasonable fear of returning home. In addition, an individual who enters the country as a minor (under the age of 18) may be able to apply because of legal disability.
Many LGBTQI asylum seekers may also have experienced trauma in their home country due to their identity. Some advocates have argued successfully that this is an extraordinary circumstance that justifies an application outside of the first year.
Matter of J-A-
, A XXX-XXX-234 (Arlington Immigration Court, April 27, 2012), was an important step forward in this area. The advocates in
Matter of J-A-
successfully argued that extreme sexual and physical violence against J-A- because of his sexual orientation caused extreme and chronic PTSD, which justified his late application (nearly 10 years after his entry into the United States). This, combined with the fact that he entered the U.S. as a legal minor, led Judge Bryant of the Arlington Immigration Court to conclude that there was an extraordinary circumstance justifying the late filing. But it is important to note that arguments relying on PTSD or other mental health conditions are not always successful. However, rulings like the one in
Matter of J-A-
give hope that the law might actually catch up with the reality of the psychological impact caused by severe persecution based on LGBTQI identity. Again, the important thing for asylum seekers to focus on here is how the extraordinary circumstance directly caused the delay in filing.
What is a reasonable period of time?
If asylum seekers are able to show that there has been a change in circumstance or an extraordinary circumstance, they are permitted to file the asylum application within a reasonable period of time. There is no specified reasonable time in IIRIRA, but the simple answer is that one should file as soon as possible.
So, while the one year bar can be concerning to asylum seekers and has been particularly harmful to LGBTQI asylum seekers, there is hope. While other options, like Withholding of Removal, may be available to individuals outside the one year bar, it is incumbent upon asylum seekers and advocates to make every effort to help the adjudicator understand the complexities faced by the LGBTQI community and to build effective justifications for filing for asylum outside the one-year period. The exceptions provide some hope to an otherwise devastating change in the immigration law.
Originally posted on the Asylumist:
www.Asylumist.com
.