By now, you may have heard that the Asylum Division--in a surprise move--has changed the order in which cases will be interviewed. This means that new cases, filed after January 29, 2018, will be interviewed before older, pending cases.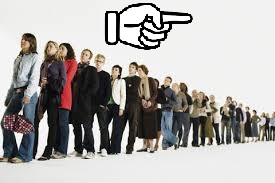 "Sorry, the front of the line is now over there... I guess..."
To understand what's happening, let's review a bit of history. Since the mid-1990s, when an asylum case was submitted, the Asylum Office attempted to interview the applicant within a couple months. But as the number of applicants increased, the Asylum Office was less able to handle the volume. Further, starting in maybe 2011 or 2012, large number of asylum seekers began arriving at the U.S./Mexico border and requesting protection (many of these applicants were "unaccompanied minors" - i.e., children without parents - whose cases received priority). In addition to their normal workload, Asylum Officers were assigned to assess these border cases and administer a credible fear interview (an initial evaluation of asylum eligibility). All this resulted in an inability to keep up with affirmative asylum applications. The result was The Backlog.
In my part of the country, the backlog began in probably 2012. We would mail asylum cases as normal. Some applicants would be interviewed within two months; other cases disappeared. Of the cases we mailed, about 60% were interviewed and 40% disappeared.
Although the Asylum Division recognized the problem, they were reluctant to change the way they processed cases. Their fear was that if they interviewed cases in the order received, all cases would move slowly. This would create an incentive for more people to submit fraudulent applications, knowing that their interview would be delayed and that they could remain in the United States for years with a work permit (150 days after she files for asylum, an applicant can apply for an employment authorization document). The problem, of course, was that cases in the backlog (the ones that "disappeared") would never be adjudicated, and would remain in limbo forever.
Then, in December 2014, the Asylum Division decided to try a new approach: They would interview the oldest cases first. In a sense, this was more fair, as it gave people with "disappeared" cases a chance for an interview. At about the same time, the Asylum Division created the
Affirmative Asylum Scheduling Bulletin
. Now, for each asylum office, we could see who was being interviewed based on the date the application was filed. This at least gave applicants some sense of how their cases were progressing.
Whether the new system worked, or whether it encouraged fraudulent applicants who only wanted work permits, I do not know. I do know that cases have been moving very slowly since December 2014. I believe this is largely due to the prioritization of cases--unaccompanied minors and credible fear interviews received priority over "regular" asylum applicants, and since there were a lot of these, the Asylum Office has been crawling through its backlog of regular cases. We could see what was happening (or not happening) on the Affirmative Asylum Scheduling Bulletin.
Enter, the Trump Administration, which
views asylum seekers as fraudsters
. USCIS (which oversees the Asylum Division)
announced
the change in policy yesterday, and the change is retroactive--all cases filed on or after
January 29, 2018
will (supposedly) be interviewed within 21 days. There is, of course, a caveat: "Workload priorities related to border enforcement may affect our ability to schedule all new applications for an interview within 21 days," says USCIS.
According to USCIS, the new priorities are
as follows
:
First priority: Applications that were scheduled for an interview, but the interview had to be rescheduled at the applicant's request or the needs of USCIS.
Second priority: Applications that have been pending 21 days or less.
Third priority: All other pending affirmative asylum applications will be scheduled for interviews starting with newer filings and working back towards older filings
From this, it appears that unaccompanied minors will no longer be a priority, which may make things faster for "regular" applicants. Also, it appears that the system for requesting expedited interviews will
remain in place
: "Asylum office directors may consider, on a case-by-case basis, an urgent request to be scheduled for an interview outside of the priority order listed above" (I previously wrote about expediting affirmative asylum cases
here
). Finally, since cases are being interviewed on a "last in, first out" basis, there is no longer a need for the Asylum Office Scheduling Bulletin, and so USCIS has eliminated it (though wouldn't it be nice if they used that website to provided updated information about what they are doing?).
USCIS has made the
reasons for the change
pretty clear: "Returning to a 'last in, first out' interview schedule will allow USCIS to identify frivolous, fraudulent or otherwise non-meritorious asylum claims earlier and place those individuals into removal proceedings." Presumably, it will also allow legitimate cases to be granted more quickly, which may be good news for people planning to file for asylum in the near future.
Rumor has it that other changes are coming to the asylum system, but what they are, we do not yet know. Given the government's view that many asylum seekers are fraudsters, I can't imagine that such changes--if any--will be positive, but we shall see.
There is a lot to say about this new change, but for now, I want to urge people to remain cautious. We will have to see how this plays out in the coming weeks and months. Obviously, if you are a new asylum seeker, or if you filed recently, you need to complete your entire case now, so that you are ready if an interview is scheduled quickly. If you have a case in the backlog, and are now losing hope of ever receiving an interview, you should try to be patient--it may be that because unaccompanied minors are no longer a priority, and because fewer asylum seekers are arriving at the Southern border, cases will begin moving more quickly. Only time will tell, and if I have any news, I will try to post it here.
Originally posted on the Asylumist:
www.Asylumist.com
.