Atlanta, Georgia is generally considered to have the most difficult Immigration Court in the country. Now, the Trump Administration has tapped attorneys from the Atlanta Office of the Chief Counsel (the "prosecutors" in Immigration Court) to take charge of the Immigration Courts and the "prosecutors" offices for the entire United States. A third Atlanta OCC attorney has been appointed to a key policy-making position at the Department of Homeland Security ("DHS").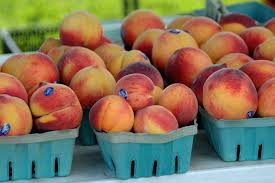 If you're feeling down about Georgia exports, here's something to love.
Before we get to those attorneys, let's first talk about Atlanta. The
average grant rate
for asylum cases across the U.S. is just under 50%. The asylum grant rate at the
Atlanta Immigration Court
is less than 9%. Also, immigrant advocates have frequently
complained
about due process issues and the treatment of litigants in the Atlanta court.
It's true that the Office of the Chief Counsel ("OCC") and the Immigration Court are independent of each other, but I think we can safely glean a few things about the Atlanta OCC from what we know of the Court.
For one, since Immigration Judges will usually grant cases where the parties agree on relief, it seems likely that OCC attorneys in Atlanta rarely determine that a case should be approved for asylum. Of course, we do not know about the quality of the asylum cases in Atlanta—maybe they are unusually weak (a real possibility since sophisticated litigants will avoid Atlanta due to its low grant rate). But it would be strange indeed if almost no cases there meet the relatively low threshold required for asylum. The fact that the OCC is not stipulating to asylum on occasion indicates that they are taking a very hard line against such cases (this contrasts with many other jurisdictions, where the local OCCs regularly conclude that applicants qualify for asylum). The job of OCC attorneys is not merely to deport as many people as possible; they are supposed to do justice. This means agreeing to relief where it is appropriate. The low grant rate in Atlanta may indicate that OCC lawyers there are prioritizing "winning" over doing justice, and ideology above the law—all worrying signs as these attorneys move into national leadership positions.
Second, whether the asylum cases in Atlanta are strong or weak, I suspect that the high denial rate there colors the view of the OCC attorneys. If those attorneys believe that over 90% of asylum seekers are unworthy of relief—either because they do not meet the requirements for asylum or because they are lying about their claims—it seems likely that these attorneys will develop a jaundiced view of such cases, and maybe of immigrants in general.
Finally, there exists at least one instance of the Atlanta OCC taking an overly-aggressive position in a case involving alleged racial profiling by ICE (if OCC attorneys are the prosecutors, ICE officers are the police). In that
case
, an Immigration Judge in Atlanta ordered the OCC to produce an ICE agent accused of racial profiling. The OCC refused to produce the agent, and ultimately, the Judge
ruled
that the agents had engaged in "egregious" racial profiling and the OCC attorneys had committed "willful misconduct" by refusing to bring the agents to court. While the three OCC attorneys at issue here had left the Atlanta office by the time of this case, the OCC's position again points to an agency willing to put "winning" ahead of justice.
With this background in mind, let's turn to the alumnus of the Atlanta OCC who will be taking charge of our immigration system.

Tracy Short - ICE Principal Legal Advisor
: Tracy Short is the new Principal Legal Advisor for ICE. In that capacity, he "oversees the Office of the Principal Legal Advisor, the largest legal program within the Department of Homeland Security, comprised of more than 1,100 attorneys and 300 support professionals throughout the United States." These are the attorneys who serve as "prosecutors" in Immigration Court, among their other tasks. According to his ICE
biography
, "From 2009 to 2015, Mr. Short served as the Deputy Chief Counsel in the ICE Atlanta Office of Chief Counsel." Mr. Short also served on the committee staff for
Congressman Bob Goodlatte
, the staunch anti-immigration representative from Virginia.
While Mr. Short has impressive litigation experience, he has almost no management experience (as Deputy Chief Counsel, he might have supervised a few dozen people, at most). But now, under the Trump Administration, he is overseeing more than 1,400 lawyers and staff. Like his fellow veterans of the Atlanta OCC, I suspect he was chosen more for his ideological views than for his management background.

James McHenry - Acting Director of the Executive Office for Immigration Review ("EOIR")
: In a move characterized as "unusual" by retired Immigration Judge and former Chairman of the Board of Immigration Appeals Paul Wickham Schmidt, the Attorney General has appointed James McHenry as the new Acting Director of EOIR, the office that oversees the nation's immigration court system. Judge Schmidt
notes
that, "While Judge McHenry has stellar academic and professional credentials, and is an 'EOIR vet,' having served as a Judicial Law Clerk/Attorney Adviser in the Buffalo and Baltimore Immigration Courts, it is unusual in my experience for the acting head of EOIR to come from outside the ranks of current or former members of the Senior Executive Service, since it is a major executive job within the DOJ." In other words, while Judge McHenry has had significant legal experience, he has very little leadership experience, especially at EOIR.
Indeed, Judge Schmidt's characterization of Judge McHenry as an "EOIR vet" seems overly generous. He served as a Judicial Law Clerk, which is basically a one or two year gig for new law school graduates working as an assistant to Immigration Judges (I myself was a JLC back in the prediluvian era) and he has a few months experience as an Administrative Law Judge for the Office of Chief Administrative Hearing Officer, an office at EOIR that reviews certain employment cases involving immigrants.
Like Mr. Short, Judge McHenry worked for the Atlanta OCC. He served as an
Assistant Chief Counsel for ICE
in that office from 2005 to 2010.
Whether Judge McHenry's "acting" role as Director of EOIR will become permanent, we do not know. But I agree with Judge Schmidt that it is highly unusual for a person with such limited management experience to be picked to head our country's immigration court system, with hundreds of judges and support personnel to oversee.

Gene Hamilton - Counsel to DHS Secretary
: Gene Hamilton was appointed as
counsel
to DHS Secretary John Kelly. Along with Stephen Miller, he was apparently a
key architect
of the Trump Administration's travel ban against people from several majority-Muslim countries. He also
served as a trial attorney
at the Atlanta OCC in about
2014 and 2015
, though I could not verify his length of service there. In addition, Mr. Hamilton served on the staff of
Senator Jefferson Beauregard Sessions
before he was appointed Attorney General. Mr. Sessions, of course, is well known for his regressive views on immigration, civil rights, and just about everything else.
So there you have it. Three veterans of the Atlanta OCC who together will be exercising significant control over our country's immigration system. Given their backgrounds and experience (or lack thereof), it's difficult to be optimistic about how that system will fare under their watch.
Originally posted on the Asylumist:
www.Asylumist.com
.