Days after President Trump took office,
he moved to implement one of his campaign promises
: To bar Muslims, refugees, and others from coming to the United States. Courts were not amused, and
blocked
significant portions of the President's executive orders (thanks largely to the brilliant work of lawyers at the ACLU and at several states attorneys offices). The President tried again, with a new,
more limited executive order
("EO"). The new EO was also severely limited by the courts.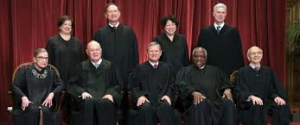 You'd think a bunch of people in burkas would be a bit more sympathetic to Muslims.
But now,
the Supreme Court has spoken
, and the EO is back, at least in part. So what's the story? Here is a nice summary (with some comments by yours truly) of where we are now, courtesy of Aaron Reichlin-Melnick at the
American Immigration Council
(and if you want to do something to help resist the travel ban, consider
donating
to the AIC--they are a terrific organization that does yeoman's work in all areas of the immigration field):
"[The] the Court ruled that the government can only enforce the travel ban against foreign nationals who
do not
have 'a credible claim of a bona fide relationship with a person or entity in the United States.'
"What this means is that individuals from the six countries [Iran, Libya, Somalia, Sudan, Syria, and Yemen] will be permitted to enter the United States if they have a 'close familial relationship' with someone already here or if they have a 'formal, documented' relationship with an American entity formed 'in the ordinary course' of business. However, the Court said that such relationships cannot be established for the purpose of avoiding the travel ban. The government will likely begin applying the travel ban in the limited fashion permitted by the Supreme Court on June 29, 2017.
"Who is likely to be allowed to enter the United States?
Individuals who have valid immigrant or non-immigrant visas issued on or before June 26, 2017: These individuals are not included in the travel ban [However, it seems to me that the decision leaves open the possibility of a new EO where such people are banned, and so I am concerned about that as well].
Individuals with visas coming to live or visit with family members: The Court's order is clear that individuals who 'wish [] to enter the United States to live with or visit a family member' have close familial relationships. The Court used both a spouse and a mother-in-law as examples of qualifying relationships, but it is unclear whether more distant relatives would qualify.
Students who have been admitted to a U.S. university, workers who have accepted offers of employment with U.S. companies, and lecturers invited to address an American audience: The Court provided these three examples of individuals who have credible claims of a bona fide relationship to an American entity.
Other types of business travelers: It is unclear whether individuals with employment-based visas that do not require a petitioning employer will be able to demonstrate the requisite relationship with a U.S. entity.
Refugees: Most refugees processed overseas have family or other connections to the United States including with refugee resettlement agencies [I read this a bit more pessimistically--I do not know whether a pre-existing relationship with a resettlement agency is enough to avoid the ban]. The Court ruled that such individuals may not be excluded even if the 50,000 [person] cap on refugees has been reached or exceeded.
"Who may have trouble entering the United States?
Individuals who form bona fide relationships with individuals or entities in the United States after June 26, 2017: The Court's decision is not clear on whether it is prospective or retrospective only. Individuals who form such relationships to avoid the travel ban are barred from entering.
Tourists: Nationals of the designated countries who are not planning to visit family members in the United States and who are coming for other reasons (including sight-seeing) may be barred from entering [I also read this more pessimistically--it seems to me that anyone from a banned country who does not merit an exception as discussed in the decision will be denied a visa, including people coming to the U.S. for business, pleasure or medical treatment]."
As I read the decision and the EO, asylum seekers who are already in the United States, as well as people who have asylum or have a green card based on asylum, are not blocked from traveling and re-entering the country. They are also not blocked from receiving additional immigration benefits (like asylum, a green card, a work permit, travel documents or naturalization). However, the proof will be in the implementation--how the Department of Homeland Security ("DHS") interprets and applies the Supreme Court decision in actual, real-life cases.
In that regard, I agree with Justice Thomas, who "fear[s] that the Court's remedy will prove unworkable" and will invite a "flood of litigation." Who is a qualifying relative for purposes of this decision? Must that person be a U.S. citizen? Or can the person be a resident or an asylee (as in a refugee/asylee following-to-join petition,
form I-730
)? Could the qualifying relative simply be someone here on a work visa or a visitor visa? What if the person is here illegally? And what is a business relationship, and how do we know whether it is
bona fide
or created solely for the purpose of subverting the EO?
In short, while the Supreme Court decision is reasonably clear for some aliens, it leaves large gray areas that will require interpretation, meaning more litigation. Such litigation is expensive and time consuming, and so the Court's decision is likely to leave some people who might qualify to come here stranded, depending on how DHS implements the EO, and depending on whether they can get legal help. Overall, that's not a great situation to be in.
Finally, yesterday's decision perhaps telegraphs where the Justices will come down on the merits of the EO when they look at the case this fall (the Court's decision relates only to whether to stop implementation of the EO pending a decision on the merits). Three Justices (Thomas, Alito, and Gorsuch) seem likely to allow a broader version of the ban to go forward. Given what we see in this decision, it may be that the other Justices are more skeptical of the ban and will limited it in some ways (and with luck, if the Trump Administration fears that the Court will limit the ban, it may just declare victory and allow the EO to expire, as originally intended).
All this remains to be seen, but for now, anyone from a banned country should pay attention to how the EO is implemented in the coming days, and perhaps avoid traveling outside the U.S. until we know more.
Originally posted on the Asylumist:
www.Asylumist.com
.