Dr. Jill Stein is the Green Party's presumptive nominee for President of the United States. In a recent appearance on Democracy Now!, she argued that there was little difference between Hillary Clinton and Donald Trump:


Trump says very scary things—deporting immigrants, massive militarism and, you know, ignoring the climate. Well, Hillary, unfortunately, has a track record for doing all of those things. Hillary has supported the deportations of immigrants, opposed the refugees—women and children coming from Honduras, whose refugee crisis she was very much responsible for by giving a thumbs-up to this corporate coup in Honduras that has created the violence from which those refugees are fleeing. She basically said, "No, bar the gates, send them back." You know, so we see these draconian things that Donald Trump is talking about, we actually see Hillary Clinton doing.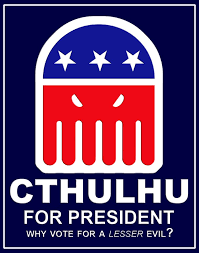 Dr. Stein says that, people are "very quick to tell you about the terrible things that the Republicans did, but they're very quick to forget the equally terrible things that have happened under a Democratic White House.... It's time to forget the lesser evil, stand up and fight for the greater good."

I am a member of the Green Party. I am also an attorney who represents immigrants and asylum seekers. My clients have fled persecution in the Middle East, Africa, and the Americas. They are not people who have the luxury of idealism. They are people whose loved-ones have been killed by war and terrorism. Many of my clients have been attacked or threatened with death. Their first priority is to keep their families and themselves alive. By leaving everything behind--family members, friends, homes, careers--in order to find safety in America, they have already chosen the lesser evil that Dr. Stein speaks about.

We are now almost at the start (!) of the general election season. Are the two major candidates for President really the same, as Dr. Stein argues? My clients don't think so. They are genuinely afraid of Donald Trump and of what he represents. When Mr. Trump threatens to ban Muslims from the United States, or when he refers to Mexicans (and Americans of Mexican decent) in a racist manner, my clients wonder whether there is a future for them in this country.

One of my clients is a women's rights activist from Afghanistan. Will she be able to reunite with her young children, or will they be prevented from coming to the U.S. because of their religion? Other clients are a Syrian couple, both doctors, whose first child died in the war. Will they be able to keep their second child safely in the United States, or will they be forced to leave? What about my Iraqi client who was kidnapped and tortured by terrorists? Or my Pakistani-journalist client whose step-father was murdered in retaliation for the family's democratic political views? And what about my Honduran client who was shot in the head by members of MS-13 because he refused to join their gang? If Mr. Trump had his way, I imagine all these people—and many more—would be blocked from seeking refuge in our country.

Contrast this with Hillary Clinton. Dr. Stein points out that Ms. Clinton supported a coup in Honduras that supposedly helped create the current refugee flow from that country, and that Ms. Clinton favors detention of asylum seekers, including families with children, who arrive at our Southern border. Based on the evidence I have seen, Dr. Stein's claim about the coup is dubious: Violence was rising in Honduras before the coup, and it continued to rise after the coup. It is very difficult to pin the current waive of migration to the coup (or to credit Ms. Clinton with causing it). As for the detention of families at the border, I have yet to see a solution to this problem that is practically and politically viable. Should we simply throw open our border to all comers? My sense is that the large majority of Americans would oppose such a move. I personally think we should be using more alternatives to detention, but this is a policy tweak; not a complete solution. A leader's first priority must be to protect our country. How that can be achieved without control of our border, I do not know. In sum, the "lesser evils" discussed by Dr. Stein are difficult policy choices, and reasonable people can differ on the solutions.

More important than her previous policy positions are the positions Ms. Clinton would likely take if elected President. The Democratic Party has moved to the left, and whatever policies Ms. Clinton advances will be determined largely by where the party stands politically. On immigration, it is in a different universe from the Republican Party and from Mr. Trump, whose hardline stance on immigrants is well known. For Dr. Stein to argue that the two candidates' positions on immigration are similar is like saying that black is the same as white (ok, maybe it's more like saying that dark gray is the same as light gray, but you get the idea).

I have been a member of the Green Party for over 15 years. I support many of it's policies. But I have found it very difficult to support the top-down strategy that seems to have characterized the party since at least 2000, when Ralph Nader siphoned off votes from Al Gore. I have always felt that the Green Party should focus on state and local races. A "revolution" (whatever that means) will not come from the top down--it will come from the bottom up. So while I believe the Green Party should run a national campaign in order to raise awareness on various issues, I also believe it should ultimately endorse the Presidential candidate that represents the "lesser evil." In the current election, that candidate is Hillary Clinton. There are major differences between her and Donald Trump, and those differences may determine whether people like my clients live or die. I hope Dr. Stein will keep such people in mind as we move through this election campaign.

Originally posted on the Asylumist: www.Asylumist.com.