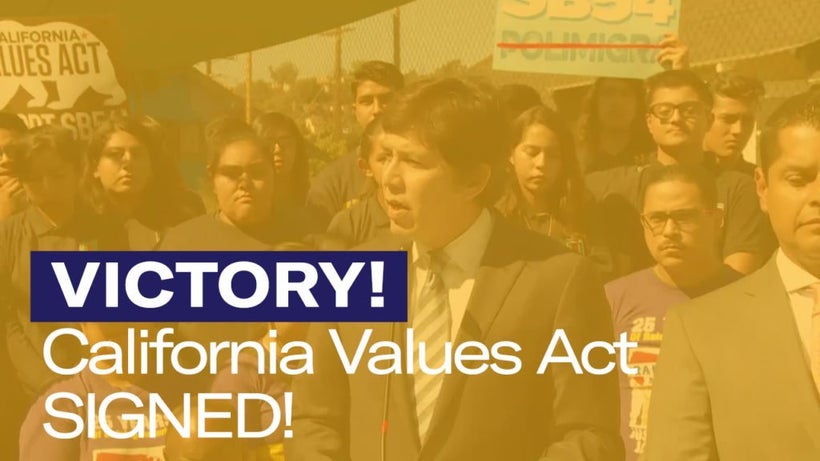 On October 5, 2017, California Governor Edmund G. Brown, Jr., approved Senate Bill 54 (SB 54), the California Values Act.

In a letter to the California State Senate, he says this bill will protect public safety and bring a measure of comfort to families who are now living in fear every day.

I share the governor's desire to help the families of undocumented aliens, but this is not the way to do it.

SB 54's rejection of immigration detainer requests is appropriate, but the rest of the bill does little more than make it easier for undocumented immigrants to remain in the United States illegally, and it does it in ways that are prohibited by civil and criminal federal immigration laws.

My point is that the State of California shouldn't be doing things that are prohibited by federal law or that would be a felony if done by an individual. I am not suggesting that there will or should be an attempt to prosecute Brown or any other California official for the criminal offense.

Highlights From Legislative Counsel's Digest of SB 54.


SB 54 repeals existing law which requires the police to notify ICE when there is reason to believe that a person arrested for a controlled substance violation may be an alien;

Prohibits law enforcement agencies from using their resources to investigate, detain, or arrest persons for immigration enforcement purposes;

Directs the California Attorney General to publish model policies and guidance on limiting assistance and the availability of information for immigration enforcement purposes; and designated entities, such as state and local police, will be required to follow them; and
Requires the Board of Parole Hearings and the Department of Corrections and Rehabilitation to obtain written consent from aliens before permitting ICE to interview them regarding civil immigration violations.
ICE Immigration Detainers.

Read more at http://www.huffingtonpost.com/entry/...b08ce873a8cf53


Published originally on Huffington Post.

About the author. Nolan Rappaport was detailed to the House Judiciary Committee as an executive branch immigration law expert for three years; he subsequently served as an immigration counsel for the Subcommittee on Immigration, Border Security and Claims for four years. Prior to working on the Judiciary Committee, he wrote decisions for the Board of Immigration Appeals for 20 years.