By Nolan Rappaport and Prakash Khatri

Most of the immigrants who enter the United States unlawfully or overstay temporary visas come here to find employment. The shorthand description of this situation is that they are drawn here by the "job magnet." On November 3, 2016, Pew Research Center estimated that in FY2014, there were 8 million undocumented immigrants in the United States who were working or looking for work.

The significance of the job magnet was recognized by the congressmen who negotiated the last comprehensive immigration reform bill 30 years ago, the Immigration Reform and Control Act of 1986 (IRCA). The Democrats were insisting on a legalization program to grant lawful status to the undocumented immigrants who were already in the United States. The Republicans were willing to accept a legalization program but only if the Democrats agreed to an interior enforcement program that would stop illegal immigration and prevent a new group of undocumented immigrants from taking the place of the ones being legalized. It was thought that this could be accomplished by establishing sanctions to punish employers who hire immigrants who are not authorized to work in the United States, which would reduce the power of the job magnet.

IRCA established section 274A of the Immigration and Nationality Act, which prohibits employers from employing immigrants they know are not authorized to work. An employer found to have engaged in hiring, recruiting, referring, or employing violations may be subject to a cease and desist order and to fines, as follows:

For a first offense, not less than $375 and not more than $3,200 for each unauthorized immigrant with respect to whom the offense occurred;

For a second offense, not less than $3,200 and not more than $6,500 for each unauthorized immigrant with respect to whom the offense occurred; and

For more than two offenses, not less than $4,300 and not more than $16,000 for each unauthorized immigrant with respect to whom the third or subsequent offense occurred.

Section 274A also imposes criminal penalties. Employers convicted of having engaged in a pattern or practice of knowingly hiring or continuing to employ unauthorized immigrants may face criminal fines and/or imprisonment. They may be fined not more than $3,000 for each unauthorized immigrant with respect to whom the violation occurred and/or imprisoned for not more than six months for the entire pattern or practice.
The plan made sense. But section 274A has never been fully implemented. Consequently, employers have had little incentive to screen job applicants' immigration status and reject those who are not authorized to work. The following table of final orders and administrative fines makes this very clear: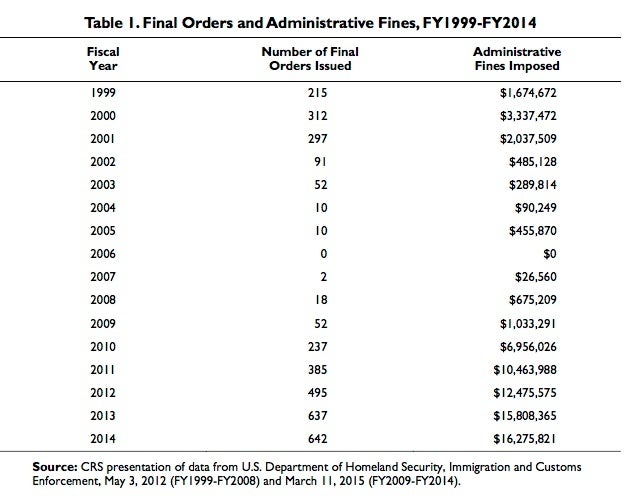 The highest number of fines was 642 in FY2014, the year when 8 million undocumented persons were working or looking for work in the United States. It is time to consider a different approach.

We propose focusing on a different magnet, the fact that it is so easy for American employers to exploit undocumented foreign workers. They are among the most vulnerable members of the workforce. That's what draws unscrupulous employers to unauthorized workers. A 2007 paper by Georgetown University's Institute for the Study of International Migration describes a category of employers that "knowingly hire[s] unauthorized workers to exploit their labor." According to the paper, "such employers may pay salaries in cash, failing to pay their share of social security taxes; and they may seek unauthorized workers because they are less likely to complain about ill treatment."

The Department of Labor (DOL) can address this problem purely as a labor issue. DOL has authority to enforce federal labor laws that were enacted to curb such abuses, such as the Fair Labor Standards Act which established a minimum wage, overtime pay, youth employment, and other standards. The Wage and Hour Division(WHD) of the DOL Employment Standards Administration administers and enforces these provisions. WHD's compliance activities in low-wage industries may be particularly relevant to efforts to reduce unauthorized employment. These industries tend to employ significant numbers of undocumented immigrants. As the chart below indicates, this is a more aggressive program than the one for fining employers who hire undocumented immigrants. In FY2014, WHD collected $79.1 million in back wages for Fair Labor Standards Act overtime and minimum wage violations for 109,261 employees.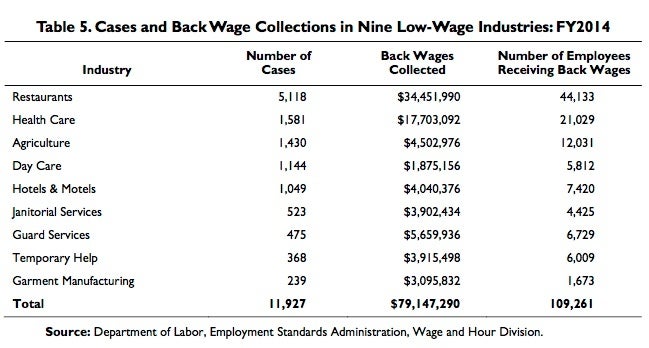 With additional funding, WHD could mount a large-scale, nationwide campaign to stop the exploitation of employees in industries known to hire large numbers of undocumented immigrants. This approach would have an immediate and chilling effect on not only the abuse of low wage workers but also herald a new era of enforcement of the laws already on the books against employers who are exploiting workers. On the immigration side, this focused attention on these abusive employers would result in fewer unauthorized workers being hired and dramatically reduce the power of the "job magnet".

Published initially on Huffington Post.
http://www.huffingtonpost.com/entry/...=1479916421810

About authors.
Prakash Khatri has a national Immigration Law practice, Khatri Law Firm, LLC (www.khatrilaw.com) in MD. He is a nationally recognized expert on Immigration law, process and policy. From July 2003 until March 2008, Mr. Khatri served as the first Citizenship and Immigration Services Ombudsman at the Department of Homeland Security. Prior to that, he managed the Immigration Compliance Dept. for Walt Disney World in Florida from 1998 to 2003. In 1984, at the age of 22, he was the youngest attorney admitted to the Florida Bar.
Nolan Rappaport was detailed to the House Judiciary Committee as an Executive Branch Immigration Law Expert for three years; he subsequently served as the immigration counsel for the Subcommittee on Immigration, Border Security, and Claims for four years. Prior to working on the Judiciary Committee, he wrote decisions for the Board of Immigration Appeals for twenty years. He also has been a policy advisor for the DHS Office of Information Sharing and Collaboration under a contract with TKC Communications, and he has been in private practice as an immigration lawyer at Steptoe & Johnson.