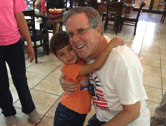 The LA4 – Attorney Cheryl Gertler, her translator Naz, me and Paralegal Elsa Garcia – volunteered at the Dilley Detention Center (aka South Texas Family Residential Center) during the first weekend of September.
We did our best to help unaccompanied mothers and children from El Salvador, Honduras and Guatemala prepare for their Credible Fear Interviews with the USCIS.
We all agree that this was one of the most important, if heart-breaking, experiences of our lives.
The Good
1. We received great training and support from the CARA Family Detention Pro Bono Project – Thank you Isabel, Ian and Aseem. See our
Dilley Photo Gallery
.
2. The approval rate for Credible Fear Interviews has risen to 87% resulting in more women and children being freed from Dilley.
3. We were able to meet with 2 top immigration advisers to DHS Secretary Johnson to discuss our concerns.
4. On our last evening in Dilley, DHS released the 5 longest-held detainee families and we were able to share a meal with them.
The Bad
1. Dilley is a detention camp, not a "residential center". Full-body scans are required to enter the facility and all sorts of items are banned including cell phones and cameras.
2. The vast majority of the facility is off-limits even to attorneys representing inmates.
3. CCA imposes arbitrary rules. Example: An aunt who had driven to Dilley all the way from Houston was prohibited from visiting her niece because she arrived at the camp wearing open-toed shoes. Seriously!
4. The children are constantly wheezing and coughing and the doctor routinely tells them to drink more water. A sign on the door warns visitors that they are in danger of catching the chicken pox if they enter the facility.
The Ugly
1. Though a Federal Judge has ruled that facility should be closed down, the government is fighting the decision tooth and nail.
2. 1,800 women and children populate the facility and the number of inmates continues to grow.
3. CBP officers frequently produce "affidavits" which are false and misleading. They mark false answers to questions asking why the women and children came to the US. They purport to take affidavits from 3 and 4-year-old children!
4. During my week in Dilley, the Los Angeles Times ran an article about ICE going from home to home in Los Angeles to round up undocumented felons including child rapists who had been freely walking the streets of LA. Yet, they continue to lock up women and children who pose no danger to society. Great priorities!