What the New Citizenship Fee Structure Means for Aspiring Americans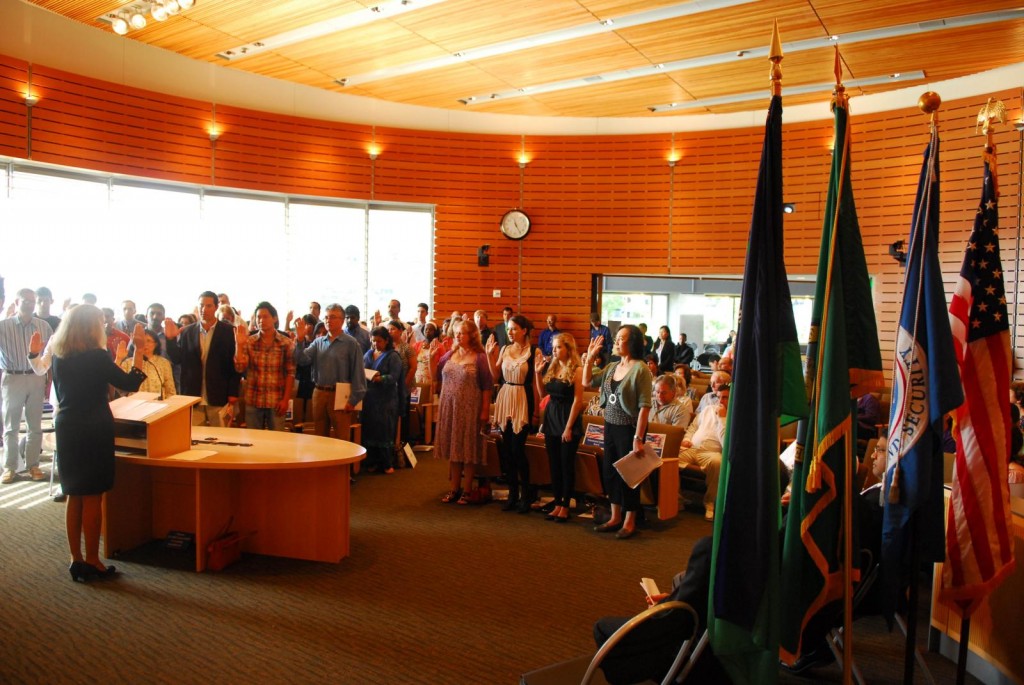 U.S. Citizenship and Immigration Service (USCIS) is primarily a fee-funded agency within the Department of Homeland Security (DHS). Every two years they are required to review the fees they collect and adjust as needed. Earlier this month USCIS announced they have completed their "fee study" and have proposed raising fees across the board by an average of 21 percent.
The fee hike that will have the largest impact on aspiring citizens is the increase in the already-high naturalization fee which is set to go up 6.6 percent. Currently the application fee is $680, including $85 for biometrics which will increase to $725. However, the agency will also implement a newly proposed partial fee waiver would reduce the naturalization fee to $405 ($320 plus a biometric fee of $85) for families living between 150-200 percent of the federal poverty level. For families of four, the new partial fee waiver would apply to those earning between $36,450-48,600. Individuals who earn up to 150 percent of the federal poverty level, will continue to be eligible for a full fee waiver.
Of the 13.1 million legal permanent residents (LPRs) in the United States, 8.8 million are currently eligible for citizenship. Many, however, are not making the leap from legal permanent resident status to citizen. The number of those naturalizing has been less than 800,000 for the past five consecutive years (however there has been a recent spike in naturalizations which is likely due to the upcoming presidential election). For those eligible to apply, the application cost of naturalization is one of the main barriers to citizenship.
According to Professor's Manuel Pastor and Jared Sanchez from University of Southern California's Center for the Study of Immigrant Integration (CSII) roughly 1 million people, or 12 percent of the eligible to naturalize population, could take advantage of the new fee waiver, cutting the cost of naturalization in half.
The fee-waiver is good news, according to Gustavo Torres of Casa de Maryland who said, "Millions of new Americans will have a shot at participating in our democracy. The old fee structure disproportionately blocked the poor from becoming American citizens, freezing them out of our democracy."
Citizenship is a good thing for immigrants and for the United States. Citizenship means a commitment to the U.S., to the constitution, and to learning U.S. civics and history. Citizenship also comes with many social and economic benefits for individuals, families, children, communities, and our nation as a whole. Addressing the systemic barrier of the cost of naturalization, therefore, is important to prevent citizenship from becoming a privilege available only to those who can most afford it.
Photo Courtesy of City of Bellevue Washington.
This post originally appeared on Immigration Impact. Reprinted with permission.
---
About The Author

Joshua Breisblatt is a Policy Analyst at the American Immigration Council. Prior to joining the Council he worked at the National Immigration Forum for over four years where he was Manager of Advocacy and Policy. In that role, Josh was the Forum's main point of contact with U.S. government agencies and the U.S. Congress. He also specialized in border issues, including enforcement, civil rights, oversight of Customs and Border Protection, and trade and commerce at U.S. ports of entry. Josh earned his J.D. from The George Washington University School Law and his B.S. from Arizona State University. Prior to attending law school, he worked for Former Congressman Harry Mitchell from Arizona.
---
The opinions expressed in this article do not necessarily reflect the opinion of
ILW.COM
.