Top 10 Immigration Stories of 2015
Immigration was in the news last year. Here are my top 10 immigration stories of 2015.
1. Donald Trump
How could Donald Trump not be the top immigration story of 2015? He said things about immigrants and immigration that had not been heard from mainstream political candidates for generations.
As the Republican front-runner in the race for the presidency, Trump consistently took extreme positions on immigration, beginning with a focus on Mexican immigrants as criminals, even going so far as to call for a revival of the 1954 "Operation Wetback," and later moving to target Muslims (and here) and their families. Even when criticized, Trump generally refused to back down.
The Trump had quite an impact on popular culture as well as political news, including an appearance on Saturday Night Live and inspiring Donald Trump piñatas.
Civil war fueled mass migration from Syria, which generated significant concern throughout Europe. Some nations, such as Hungary, were less welcoming than others, like Germany. The large numbers of persons fleeing Syria contributed to the mixed responses. The picture of a young Syrian boy who died in his effort to reach safety tugged at the heartstrings and brought home the human reality of what was at stake.
The vetting process for refugees coming to the United States provoked discussion and concern.
3. President Obama, Deferred Action 2014, and the Supreme Court
Why is this man smiling? The challenge of 26 states to President Obama's 2014 expanded deferred action program in Texas v. United States was clogged up in the courts for the year, with the Supreme Court now considering possible review. In November, the U.S. Court of Appeals for the Fifth Circuit affirmed the district court's preliminary injunction putting the new program on hold.
2015 was the third anniversary of the Deferred Action for Childhood Arrivals program.
Who is this man? Martin O'Malley, Democratic Presidential Candidate

4. Immigration and the Presidential Campaign
Donald Trump is only one of the presidential candidates. Immigration so far has been a prominent issue for both the Democrats and Republicans. Generally speaking, Democrats were moving left on immigration while Republicans veered right.

The Republican debates (and here) were fascinating from an immigration perspective, with each candidate seeking to be tougher than the next one.
Democrats also sparred on immigration. Hillary Clinton voiced support for comprehensive immigration reform and to do more on immigration than President Obama did. Although its took him a while, Democratic insurgent Bernie Sanders took a firm position in support of comprehensive immigration reform and a "fair and humane immigration policy." On life support in the polls, Maryland former Governor Martin O'Malley had a detailed and pro-immigration program laid out from the beginning of his candidacy and may be the most pro-immigration candidate.

5. Terrorism, San Bernadino, Paris, Etc.
Terrorist acts resulting in mass death in sleepy San Bernadino, California and in urbane Paris, France grabbed worldwide headlines. The woman involved in the San Bernadino violence entered the United States on a fiancé visa; two Senators demanded more information about her immigration records. In Paris, one of the terrorists was a refugee.
The involvement of Muslim immigrants in both terrorist incidents led to a focus on background checks in immigration and refugee processing. It provoked Donald Trump to float the idea of a temporary ban on all Muslim migration to the United States.
6. A Tragic Killing in San Francisco
Last summer in San Francisco, a repeat criminal (and immigration) offender in the nation unlawfully was released by the San Francisco Sheriff's office as required by the city's "sanctuary ordinance." He has been charged with killing a young woman named Kate Steinle. The national reaction was swift, putting undocumented immigration in the spotlight. One result was a political attack on state and local "sanctuary laws" and a national outpouring of concern.
7. China Becomes the Number One Immigrant Sending Country, More Mexicans Now Leave than Come to the United States.
This story did not make as big of a national splash as it should have. A http://lawprofessors.typepad.com/imm...m-2009-14.html" Pew Research Center study found that more Mexicans left than came to the United States from 2009-14. And China became the top country sending legal immigrants to the United States. The changing immigration demographics will no doubt influence future immigration concerns and law and policy responses.


8. The Immigration Act of 1965 Turns 50

In 1965, President Lyndon Johnson signed into law the Immigration Act of 1965, which abolished the discriminatory national origins quotas system and eliminated the last vestiges of the invidious Chinese Exclusion laws. At the same time, through a new Western Hemisphere ceiling, the Act began a process of tightening immigration from Mexico and all of Latin America, which has led to the undocumented population in the millions from Mexico and Latin America that we have today. Most scholarly studies of the 1965 Act focus on its benefits to opening immigration from Asia but fail to consider the restrictive impacts on migration from Mexico and Latin America. Jack Chin and Rose Villazor have edited a wonderful book on the Immigration Act of 1965 that offers a rich and complex study of its benefits and costs.
9. The Pope Visits the United States
As an aside, it seems much more natural to me to refer to Pope Francis as "the Pope" than to call Donald Trump "the Donald." In any event, the Pope visited the United States and inspired the nation by calling for decent and respectful treatment of immigrants. In a wonderful moment, Sophie Cruz, the daughter of undocumented immigrants, runs out to greet the Pope as his motorcade traveled the streets of Washington, D.C.
10. Miscellaneous
There were many other news items that I could mention but none were earth-shattering. Although perhaps interesting to immigration law professors, the Supreme Court's immigration decisions were not blockbusters. Convicted of the 2013 Boston bombing, Dzhokhar Tsarnaev, whose family from Chechnya had been granted asylum, was given the death penalty for his role in the act. Last but not least, Loretta Lynch was confirmed as the new Attorney General of the United States.


This post originally appeared on ImmigrationProf Blog . Reprinted with permission.
---
About The Author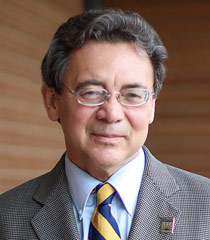 Kevin Johnson is Dean, Mabie-Apallas Professor of Public Interest Law, and Professor of Chicana/o Studies. He joined the UC Davis law faculty in 1989 and was named Associate Dean for Academic Affairs in 1998. Johnson became Dean in 2008. He has taught a wide array of classes, including immigration law, civil procedure, complex litigation, Latinos and Latinas and the law, and Critical Race Theory. In 1993, he was the recipient of the law school's Distinguished Teaching Award.Dean Johnson has published extensively on immigration law and civil rights. Published in 1999, his book How Did You Get to Be Mexican? A White/Brown Man's Search for Identity was nominated for the 2000 Robert F. Kennedy Book Award. Dean Johnson's latest book, Immigration Law and the US-Mexico Border (2011), received the Latino Literacy Now's International Latino Book Awards – Best Reference Book. Dean Johnson blogs at ImmigrationProf, and is a regular contributor on immigration on SCOTUSblog. A regular participant in national and international conferences, Dean Johnson has also held leadership positions in the Association of American Law Schools and is the recipient of an array of honors and awards. He is quoted regularly by the New York Times, Los Angeles Times, and other national and international news outlets.
---
The opinions expressed in this article do not necessarily reflect the opinion of
ILW.COM
.