President mistakenly blames visa waiver program for San Bernadino terror suspects admission into US
In a speech to the nation last night from the Oval Office, President Obama tried to calm concerns among Americans about terrorism in the wake of the tragic events last week in San Bernadino, California. Questions have arisen about the immigration records of the suspects, Syed Farook, a U.S. citizen, and his wife, Tashfeen Malik.
Unfortunately, President Obama made a critical immigration error in his remarks, which the White House quickly corrected. Here is the portion of the speech and the correction:
"And we constantly examine our strategy to determine when additional steps are needed to get the job done. That's why I've ordered the Departments of State and Homeland Security to review the visa *Waiver program under which the female terrorist in San Bernardino originally came to this country. And that's why I will urge high-tech and law enforcement leaders to make it harder for terrorists to use technology to escape from justice."
I was listening to the speech in real time and was jarred by the reference to the visa waiver program, which I had not heard had anything to do with the San Bernadino case. One is left to wonder how such a major blunder could have made its way into the President's speech.
The visa waiver program, by contrast, allows citizens of 38 participating countries — including Australia, the United Kingdom and many European countries — to travel to the United States and stay without a visa for 90 days or less.
Here is a primer on the type of visa Malik and Syed Rizwan Farook were granted, a process that allowed her to later gain permanent resident status.
What is a K1 visa?
The K1 visa permits the foreign-citizen fiancé of a U.S. citizen to travel to the U.S. and marry his or her sponsor within 90 days of arrival. It is one of dozens of visas that allow foreigners to enter the U.S. Read more.
How are applicants screened?
"Since 9/11, all of these involve multiple layers of vetting with multiple agencies putting folks through various systems, where we watch individuals, what their affiliations are, whether they're on any kind of watch lists," State Department spokesman Mark Toner said in a news briefing Thursday. "All of this is done for any visa applicant."
The steps include a long application that both members of the couple must complete. Malik and Farook would have needed to provide proof of engagement, proof they intended to get married and biographical data.
There also is a long review process conducted by United States Citizenship and Immigration Services. Once USCIS approves the K1, a process that can take anywhere from 6 months to 2 years, the application is handed off to the State Department.
This post originally appeared on ImmigrationProf Blog. Reprinted with permission.
---
About The Author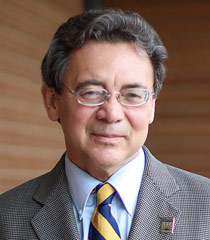 Kevin Johnson is Dean, Mabie-Apallas Professor of Public Interest Law, and Professor of Chicana/o Studies. He joined the UC Davis law faculty in 1989 and was named Associate Dean for Academic Affairs in 1998. Johnson became Dean in 2008. He has taught a wide array of classes, including immigration law, civil procedure, complex litigation, Latinos and Latinas and the law, and Critical Race Theory. In 1993, he was the recipient of the law school's Distinguished Teaching Award.Dean Johnson has published extensively on immigration law and civil rights. Published in 1999, his book How Did You Get to Be Mexican? A White/Brown Man's Search for Identity was nominated for the 2000 Robert F. Kennedy Book Award. Dean Johnson's latest book, Immigration Law and the US-Mexico Border (2011), received the Latino Literacy Now's International Latino Book Awards – Best Reference Book. Dean Johnson blogs at ImmigrationProf, and is a regular contributor on immigration on SCOTUSblog. A regular participant in national and international conferences, Dean Johnson has also held leadership positions in the Association of American Law Schools and is the recipient of an array of honors and awards. He is quoted regularly by the New York Times, Los Angeles Times, and other national and international news outlets.
---
The opinions expressed in this article do not necessarily reflect the opinion of
ILW.COM
.
Posting comments is disabled.