Momentum On Immigration Reform Continues To Build
IPC AILF - For the Immigration Policy Center for Mary Giovagnoli
Momentum on Immigration Reform Continues to Build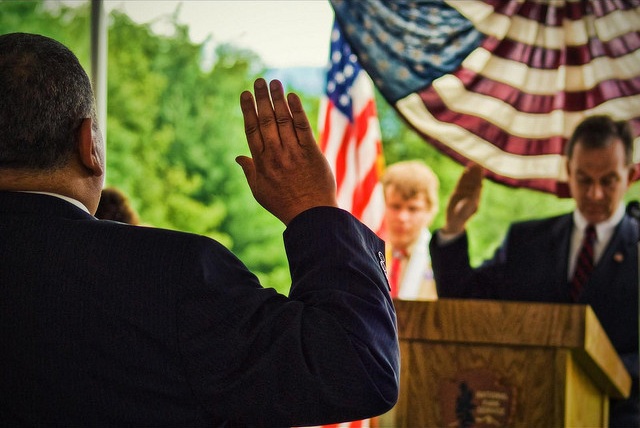 News stories continue to highlight the growing likelihood that immigration reform will play a prominent role in Congress this spring. According to an article in Sunday's New York Times, both the White House and Congress are deeply engaged in immigration reform legislation, with a bipartisan group of Senators working methodically through tough issues like enforcement and legalization. While the details remain under wraps, there is growing optimism that immigration may become the issue on which both parties can truly find common ground.
A good example of this common ground is represented by a new campaign launched today by prominent evangelical leaders. Although people of faith across the religious spectrum have long supported fair and generous immigration laws, including many high profile evangelical leaders like the Reverend Richard Land, the "I Was A Stranger" prayer challenge is aimed directly at evangelicals, urging them to support immigration reform and to challenge their legislators to do so as well, based on Scriptural guidance.
A very different example, but equally telling is the inclusion of immigration reform in President Obama's weekly radio address last Saturday, in which he stated that "We have to fix our infrastructure and our immigration system." This may not sound very new, but it is one of those tiny rhetorical moments that can easily be overlooked. Just a few years ago, immigration reform was so volatile and high profile that it would be treated with kid gloves by many politicians. To list immigration and infrastructure together may just be a bit of alliteration, but it may also represent the growing consensus that the immigration system, like our nation's highways, bridges, and railroads, is a necessary part of keeping America strong.
These are the moments to watch for. The seemingly matter of fact inclusion of immigration reform next to roads and bridges and the use of Scripture to reframe an issue may have little to do with each other on their face, but in fact they signal that the country continues to be ready for a debate and a resolution that is long overdue.
Photo by Sammers05
© Copyright • American Immigration Council • All Rights Reserved
---
About The Author

Mary Giovagnoli is the Director of the Immigration Policy Center. Prior to IPC, Mary served as Senior Director of Policy for the National Immigration Forum and practiced law as an attorney with the Departments of Justice and Homeland Security—serving first as a trial attorney and associate general counsel with the INS, and, following the creation of DHS, as an associate chief counsel for United States Citizenship and Immigration Services. Mary specialized in asylum and refugee law, focusing on the impact of general immigration laws on asylees. In 2005, Mary became the senior advisor to the Director of Congressional Relations at USCIS. She was also awarded a Congressional Fellowship from USCIS to serve for a year in Senator Edward M. Kennedy's office where she worked on comprehensive immigration reform and refugee issues. Mary attended Drake University, graduating summa cum laude with a major in speech communication. She received a master's degree in rhetoric and completed additional graduate coursework in rhetoric at the University of Wisconsin, before receiving a J.D. from the University of Wisconsin Law School. She spent more than ten years teaching public speaking, argumentation and debate, and parliamentary procedure while pursuing her education.
---
The opinions expressed in this article are those of the author(s) alone and should not be imputed to ILW.COM.